Workplace Investments that Will Attract Top Talent in 2022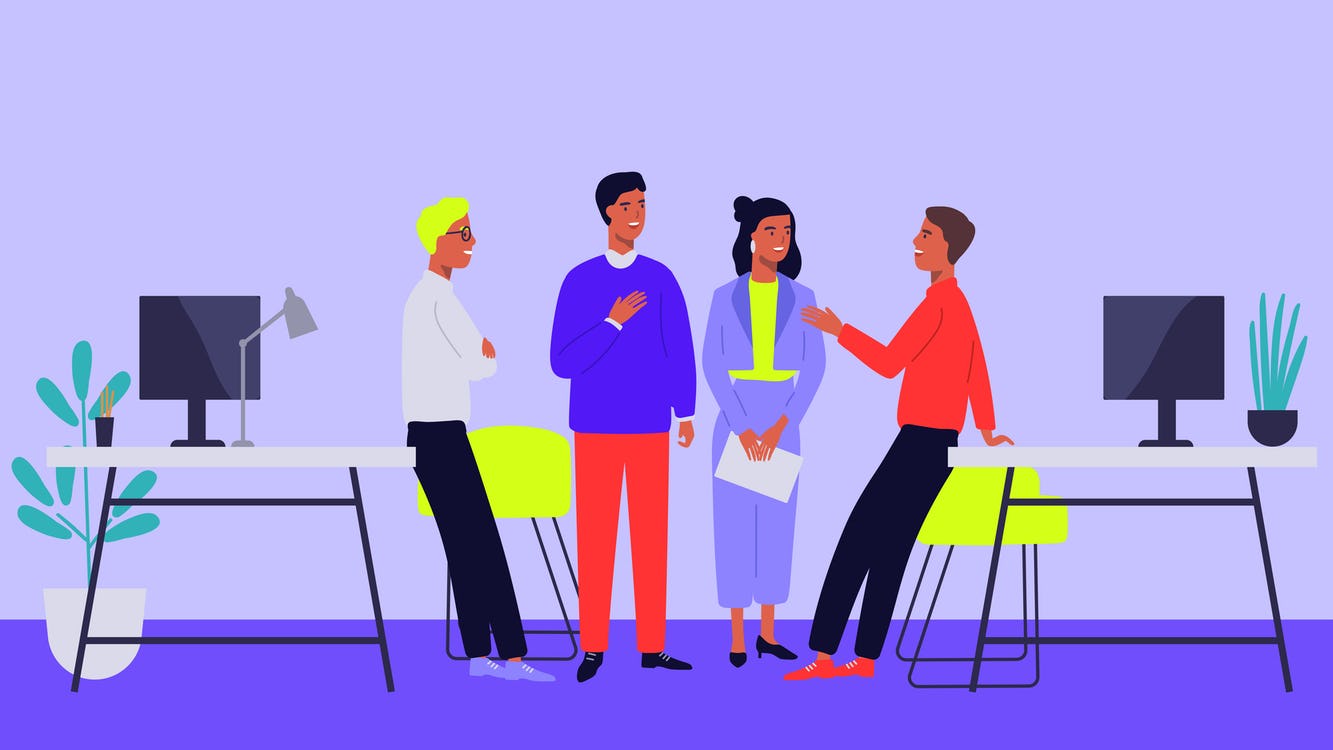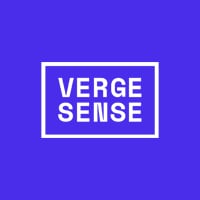 VergeSense is the industry leader in providing enterprises with a true understanding of their occupancy and how their offices are actually being used.
Since April, when the Bureau of Labor Statistics reported that four million Americans had quit their jobs in a single month, (the "Great Resignation,") the United States has been experiencing industry-wide mass turnover — over 40% of American workers are actively looking for new jobs.
As a response, company leaders have been left to rethink the strategies and policies that succeed in attracting and retaining top talent. But what exactly are these potential candidates looking for in their next employer?
The past several years have been a trying time for the global workforce, resulting in hoards of employees experiencing burnout and struggling to create a positive work-life balance for themselves. The transitions to working from home and adopting hybrid work have left employees feeling disconnected and in search of deeper connection to their work.
In order to attract and retain top talent in 2022, business leaders and workplace strategists need to invest in the employee experience. Here are the top challenges facing hiring teams in the year to come, in addition to the key employee engagement strategies for you to implement in 2022.
Hiring Challenges in 2022
As a result of such unprecedented turnover rates, largely fueled by employees not having the flexibility they want from their employers, there has been an increase in hiring challenges for recruiters and talent acquisition teams. 70% of employers are expecting to still have hiring challenges through 2022. According to Kerry Gilliam, vice president of marketing at Jobvite, the same challenges that face the global workforce exist for the recruiting industry as well and overcoming them is requiring some creativity. She mentions that recruiting teams are having trouble hiring, too, and outsourcing parts of their hiring process, or rethinking job descriptions to hire for new roles to fill new needs, like workplace strategy roles.
Additional hiring challenges facing companies in 2022 include:
The ongoing talent shortage — it is projected that the global human talent shortage will reach 85 million by 2030.
Offering attractive enough benefits — almost half of the Gen Z workforce consider good healthcare to be a more important job benefit than paid time off.
Shifting recruitment priorities — such as offering virtual interviews and integrating automation into the recruitment process.
How the Workplace Impacts Hiring + Retention
For many employees, accepting a position at a company is as much about the responsibilities of the job as much as it is about the workplace itself. And in the age of hybrid work, when working remotely or from their personal home office is an option for many employees, workplace design plays an integral role in the process of hiring and retaining talent.
People care about where they work and who they work for. Employees like being proud of their job, their team members, and the company they represent — the workplace itself is an extension of their identity as an employee. Redesigning the workplace to support the needs of modern employees is the key to hiring and retaining talent.
The Impact of the Workplace on Employee Engagement
Modern workplaces are designed to improve productivity and increase employee wellbeing. When they are designed without the needs of employees in mind, they can revert to being static and uninspiring environments. Instead, when employees feel as though their workplace was designed with their specific preferences and desires in mind they feel respected as individuals and are in turn more engaged in their work.
The Link Between Engaged Employees and Company Performance
Recent surveys have shown a direct correlation between engaged employees and overall company performance.
According to a Global Human Capital Trends survey from Deloitte, 79% of business leaders agree that fostering a sense of belonging in the workforce is important to their organization's success in the next 12-18 months. Meanwhile, 93% agree that a sense of belonging for employees drives organizational performance.
The Top Office Perks HR Teams Want to Offer in 2022
The ideal benefit package changes along with overarching shifts in workplace culture. The top perk desired by those on the job hunt was maximal paid time off not too long ago. In 2022, perks like unlimited PTO are no longer doing the heavy lifting of attracting and retaining talent. Instead, here are the top benefits that employees want to be offered in the years to come.
1. Flexible workplaces + flexible schedules
One of the most prevalent workforce trends has been the transition to flexible workplaces and flexible schedules. Both are a top desire of modern employees due to the freedom and independence they allow workers to have. Therefore, it comes as little surprise that 71% of employees say that flexible work schedules are among their most valuable benefits.
2. Spaces for deep focus
Focus rooms provide a space directly designed to help employees relax, recenter themselves, and work in private — a major benefit for those sharing their home with others who also work remotely (or children, pets, or other relatives).
The work style of employees vary from person to person. By creating spaces for deep focus, with limited disturbances and equipped to support individual work sessions, in addition to creating spaces for collaborative work, companies can offer workspaces that fit the needs of every employee.
3. Wellness areas
Supporting employee wellness can look like any number of things — the construction of on-site fitness facilities, investing in mental and physical health assistance programs, and hosting community service activities.
By creating wellness areas in the workspace, companies can prioritize the health of their employees, while showing through financial investments in the workplace that the organization values employee wellbeing.
4. Bookable desks and meeting rooms
Increased flexibility in the workplace includes giving employees autonomy over where they sit in the office each day. With bookable desks and meeting rooms, companies that use agile seating give their team members the benefit of operating out of whatever type of workspace that they need to be most productive on any given day.
How Companies are Updating Workplaces to Improve Employee Engagement at Work
Many business leaders are taking the present time as an opportunity to redesign their workspaces and update workplace policies to improve employee engagement. For Grant Christofely, a workplace strategy director, updating the workplace revolves around recognizing that the way ideas are exchanged in the workplace has evolved due, in large part, to technology.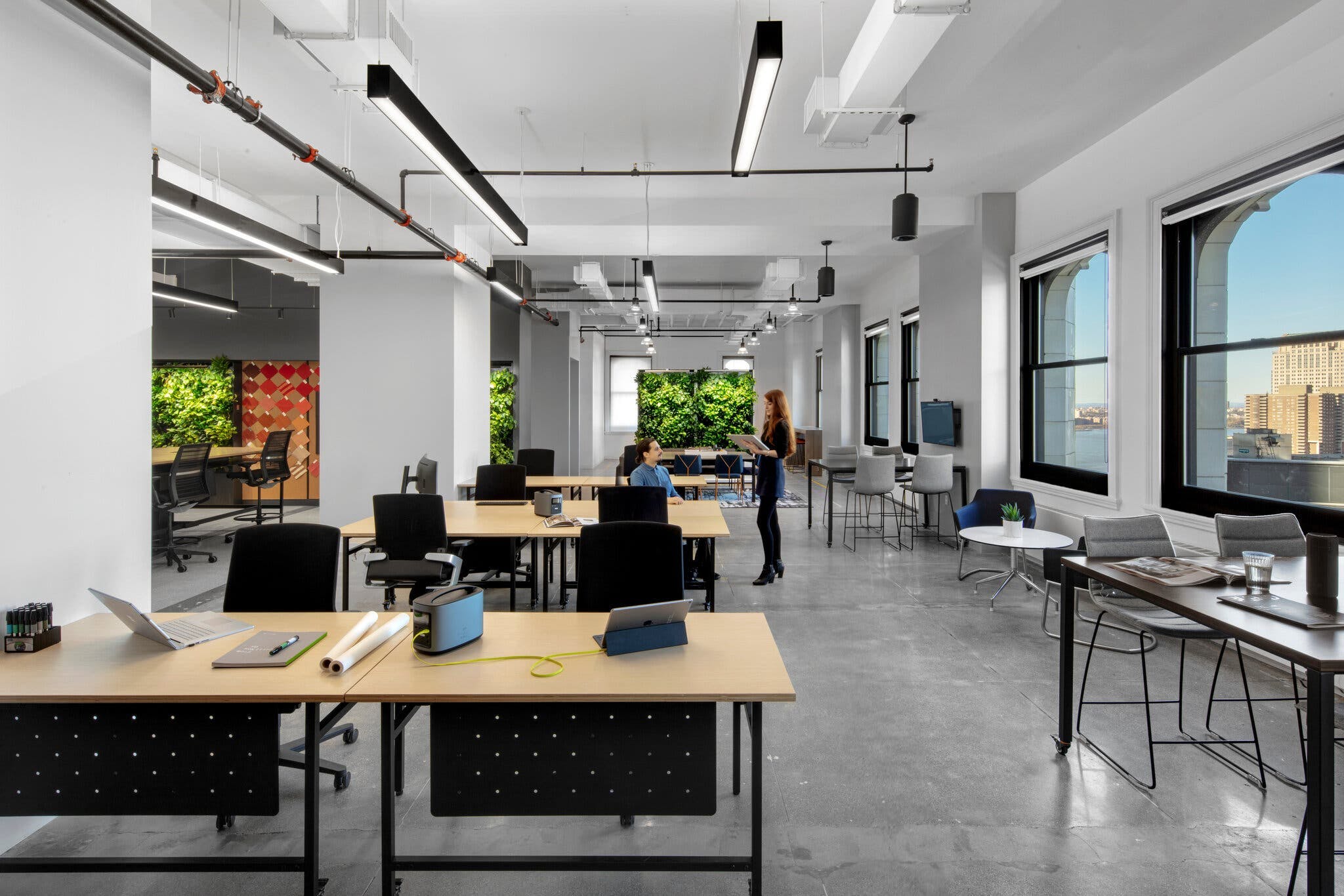 modern office with employees collaborating and lots of natural light, and agile workspaces
Source: New York Times
Practically, this looks like integrating the use of new smart office tech and workplace analytics to optimize employee engagement.
By transitioning their headquarters into a flexible workspace, Grant and his company have provided employees with more freedom of choice in the office. Instead of assigned seats their employees sit at mobile tables equipped with portable battery packs and equipment, to better support the lifestyle of the modern flexible worker.
Top Employee Engagement Initiatives for 2022
While workplace design plays a large role in employee engagement, it is not the only factor that determines how engaged the workforce is. To further improve employee engagement, many companies also host team building activities, events, and initiatives to drive workplace commitment.
Employee engagement initiatives include:
New Types of Social Gatherings
Due to shelter in place and social distancing mandates, the recent years have been a low point for in-person social gatherings. As a result, employees are looking for new types of social events to participate in moving forward. This is an opportunity to be creative by hosting an activity for team members to boost camaraderie — such as an experiential, interactive event — while reminding your employees how much you appreciate them along the way.
Workplace Wellness Programs
In addition to designing on-site spaces for employees to focus on their wellness while working, another key way to increase employee engagement is with a company-wide wellness program.
Playfully competitive workplace wellness programs such as a department vs. department step challenges are a great way to engage employees in a new and interesting way.
Community Activities
71% of employees say that they prefer to work at a company which emphasizes giving and volunteering. When team members feel as though they are working towards a purposeful mission, they naturally feel more connected to and engaged in the work they are doing. Create a schedule of community activities that allow your team to deepen their relationship with your local environment.
Attracting top talent comes down to how prepared and flexible your workplace is to engage your employees. To ensure you are prepared for the future of flexible work, here are 5 Reports that Guide Workplace Strategy in 2022.