Workplace Design Best Practices

Saanthia is passionate about the future of work, and providing workplace, real estate, and facilities teams with the latest data to optimize their spaces.
We're living in a time when occupancy is on the rise, but remains inconsistent and unpredictable from day to day, office to office, and company to company. And as a result, optimizing for real estate cost and employee experience has never been harder.
This uncertainty often impedes workplace design decisions, and can result in designing spaces that are not suited to actual employee expectations and demands. As the purpose of the office continues to evolve, and employee expectations continue to change, it is imperative to build a workplace design strategy that elevates productivity, innovation, and makes employees want to use the workplace.
So, how can you build a workplace design strategy that accommodates this rapid change? And most importantly, how can you ensure that your current workplace design isn't impeding your company culture and employee engagement?
We broke it down for you. Here are 4 best practices for creating an effective workplace design strategy.
1. Invest in High-Quality Spaces
All the buzz around the flight to quality isn't just buzz— it is a reality. It goes without saying that high-quality amenities create high-quality experiences.
Today, more than ever before, people are conscious of the ways in which physical space shapes experience. Co-CEO of Gensler, Andy Cohen, explains, "In this time of constant change and countless challenges, people want to spend their time in environments that maximize the way they live, work, play, and collaborate."
The flight to quality manifests itself in demand for high quality, highly amenitized Class A buildings, which comprises newer properties, cutting edge design, and prime location placement. On a smaller scale, the flight to quality manifests itself in increased investment in the spaces that your employees are actually using, and truly have demand for.
For instance, if you find that 60% of your employees are flocking to the huddle rooms in your SF office, it may be worth experimenting with more huddle rooms in your NYC office to test if it's the specific amenity that's driving employee productivity.
2. Adopt a Flexible Workplace Design
The demand for flexible workplace design isn't a novel one. The COVID-19 pandemic certainly accelerated the trend of hybrid work, however it is clear that since '90s, workspaces that could morph into different types of spaces were popular.
For instance, furniture and tables on wheels were introduced during this time. In the 2000s, walls were taken down to increase collaboration in the workplace, and glass offices were introduced to increase transparency.
Today, flexibility goes beyond just movable walls in the workplace. It includes the ability to work from anywhere, and provide employees with everything they need to be productive. From a design perspective, this manifests itself in a variety of different space types and functions, such as:
1. Open-plan designs
This layout encourages collaboration between different departments, and on a more tactical scale, involves taking down walls in the office.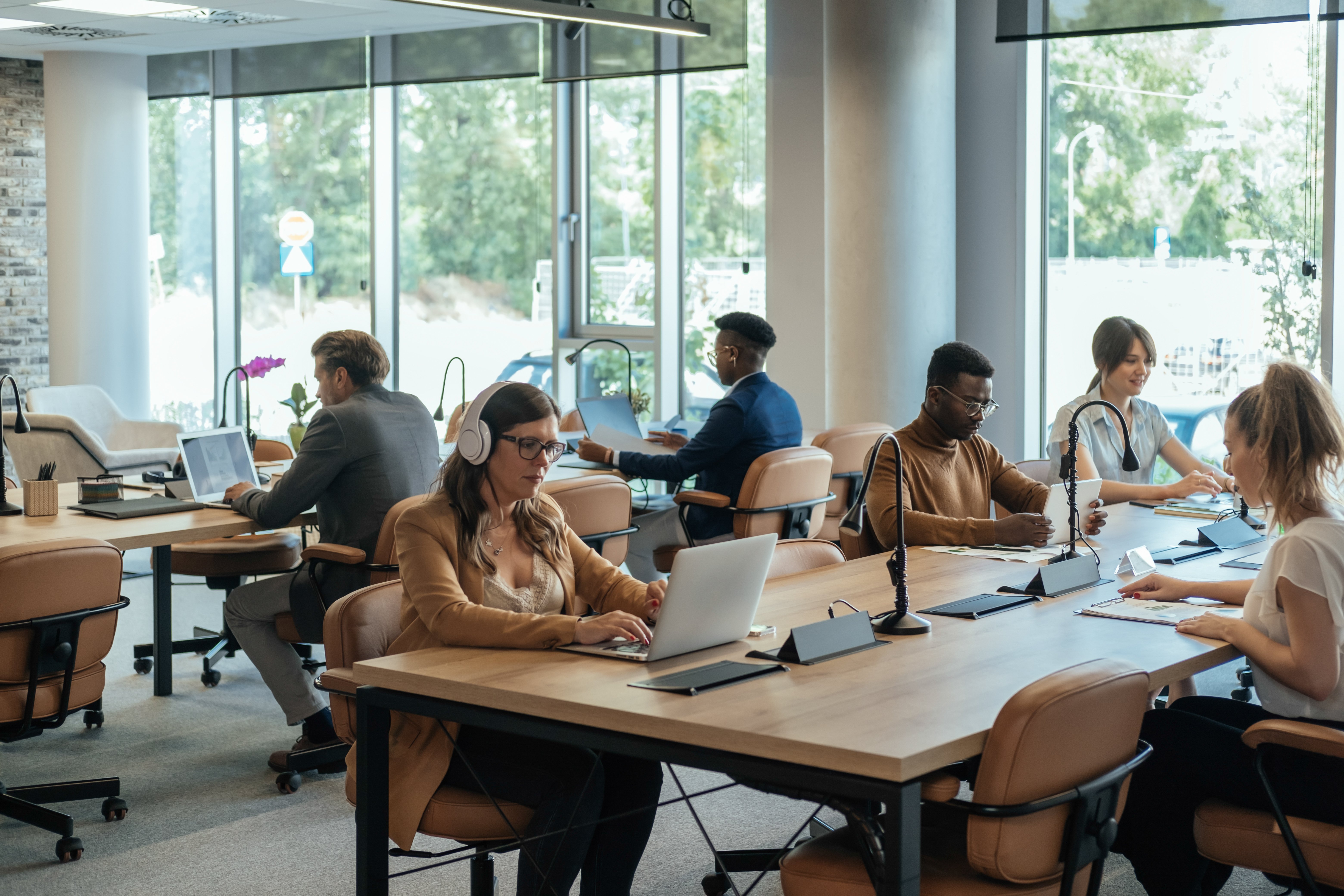 An example of an open-plan office design layout
2.
Quiet areas
A common challenge with flexible spaces is the inability to find areas for focus time and individual work, because of the greater demand for collaboration. Quiet areas mitigate this challenge, through the allocation of phone booths and smaller huddle rooms.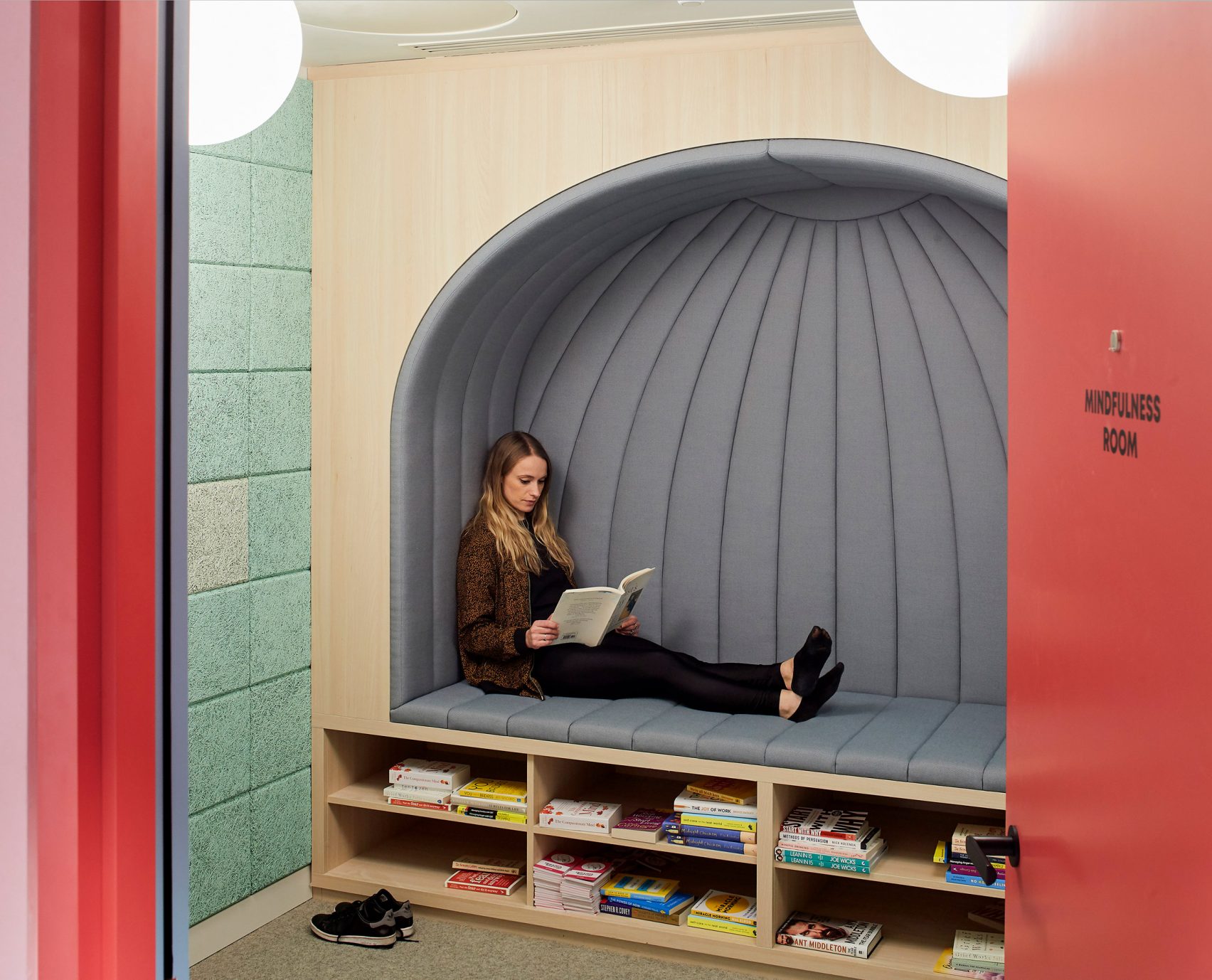 Spotify office in Stockholm: Dedicated "Mindful" Spaces. Source: Dezeen
3. Adaptable workstations
These include standing desks, coffee bars, and outside of the office, a third place (like a coffee shop)
4. Unassigned seating
Unassigned seating enables companies to adapt to changing employee demands and expectations, and provide more flexibility.
In an unassigned seating model, there isn't a 1:1 ratio of employees and desks. The demand for desks and workstations aren't based on headcount, but rather on a more holistic approach to understand the supply and demand of spaces.
Learn how to calculate your employee to seat ratio.
3. Conduct Workplace Experiments

Suppose you want to renovate three floors of your office and increase the number of phone booths on each floor. How can you justify the expense without proof of success?
And when there's over thousands of dollars of real estate at stake, it is important to first test and validate your hypothesis on a smaller scale.
This is where workplace experiments come in. In times of uncertainty, utilizing experiments is a great way to move strategies forward while keeping risk low. This is especially helpful in a period of low workplace utilization, when many businesses need to produce a business case for what will have an impact prior to a full scale rollout.
Here are 5 experiments you can get started with to test your workplace design.
4. Automate Workflows to Create a Frictionless Employee Experience
Imagine commuting all the way to the office only to find that the spaces you need are covered with someone else's belongings. Or even worse, leaving your phone booth at the office to grab a coffee, only to return to find your space occupied by someone else.
These elements of friction in the workplace experience may altogether dissuade you from coming into the office altogether.
The solution?
You need insight into how your workplace is being used, so that you can adapt fast and have insight into whether a space is occupied or not.
This begins with occupancy intelligence, which is how workplace, real estate, and facilities teams gain a true understanding of how and when their portfolio and spaces are actually used so they don't have to compromise between reducing cost and improving employee experience in a world where occupancy is increasingly dynamic.
This true understanding allows you to automate your workflows, so that you can reserve your spaces in advance through a room or desk booking application, and that when spaces aren't being used, the room is automatically released and signaled for cleaning.
Automating workflows is the fastest and easiest way to save energy, elevate the employee experience, and ensure that your spaces are being used effectively.
Here's how you can manage and automate your spaces today.
Is Your Workplace Earning Your Employees' Commute?
As businesses introduce mandates and other policies to bring employees back, it is imperative to note that if the office isn't compelling enough, no mandate will improve workplace attendance.
The workplace is the nexus of company culture, and reflects an enterprise's values and mission. Therefore, investing in the right workplace design tools are paramount.
Struggling with low occupancy and poor office attendance? Here are the Best Practices to Bring Employees Back to the Office.