How to Create Purpose-Driven Workplaces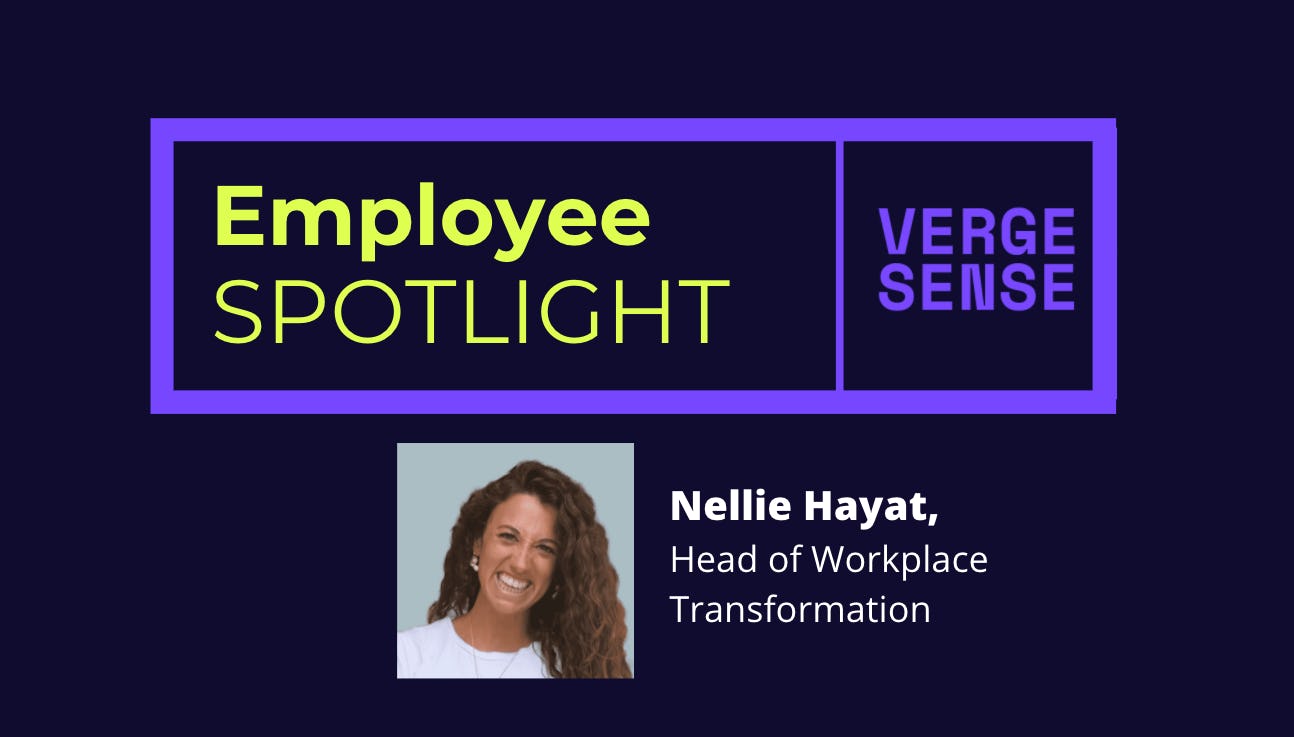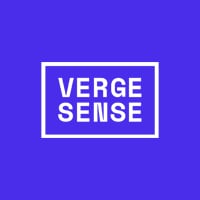 VergeSense is the industry leader in providing enterprises with a true understanding of their occupancy and how their offices are actually being used.
The technology industry has always been at the forefront of innovation. And while the perks of startup and technology company offices often drive media headlines, these organizations are often the ones genuinely reinventing the way we work. That's one reason we're excited to announce Nellie Hayat as the Head of Workplace Transformation at VergeSense today.
Nellie previously worked at Stripe, the payments platform that has skyrocketed to become one of the most highly valued unicorns in the US. During her time there, she was an integral part of their real estate and workplace strategy team. Cultivating employee experiences and advising the company on designing and curating spaces that unlock employees' potential and keep them happy, healthy, and engaged.
We recently caught up with Nellie remotely to get her perspective on her new role at VergeSense and how the pandemic has created a need within the technology industry and beyond to reimagine purpose-driven workplaces.
What will your role at VergeSense be as the Head of Workplace Transformation?
Nellie Hayat: During my time at Stripe, I built a strong network of industry colleagues examining what the offices of the future will look like. In my new role, I'm excited to continue the conversation with these workplace visionaries as an advocate for VergeSense. Examining all the ways VergeSense's sensors, and the real-time data they enable, can help execute their ambitions to create purpose-based workspaces.
The pandemic has given us the opportunity to re-think our relationship with work, with the physical environment where work happens and the new digital tools to embrace remote collaboration. In this new role, I evangelize for the transformation of workplaces both physical and virtual. And one of the many exciting projects I'll be leading is to showcase the innovators in this industry.
You can check out Destination Workplace, our newest video series to see some of our more recent conversations with workplace pioneers.
Do you think technology companies are leaders in designing workplaces for their workers' needs?
NH: Technology companies are undoubtedly trendsetters with their office strategies and designs. They have also been leaders in understanding their employees' needs and ensuring they are engaged in both their jobs and the workplace. While attention is often focused on the glitter of splashy new Silicon Valley offices, technology companies are also ahead of the curve when it comes to making offices designed to create a sense of belonging, commitment, joy and engagement.
Post-pandemic, how will companies cater to their employees' new needs of balancing remote and in-office work?
NH: In the technology industry, you're seeing companies go in a couple of different directions. For instance, Google is taking the idea of campuses one step further at one of its workplace sites, proposing town-like developments that combine the workplace with housing and public amenities like parks and sports fields, retail space, restaurants, and affordable housing. This new 'town campus' will be walkable and bike-able, with all the amenities and services within a 10-minute walk for residents. They're taking the workplace to their employees in that sense.
Many other companies are prioritizing the creation of a distributed real estate portfolio to match their distributed workforces. This includes strategies such as the 'hub-and-spoke model' where companies shift from a single or a few headquarters to numerous satellite offices (operated by them and/or coworking space providers) located closer to where their workers reside.
Dropbox is providing one example of this more disbursed spoke approach. The company recently announced a strategy along these lines with Dropbox 'studios.' While their employees' main office will be virtual, they will have access to nearby dropbox studios they can utilize alongside colleagues, customers, and partners for team work, collaboration, socializing or clients' meetings. For focused individual work, employees will be encouraged to work from home or a coworking space.
Across distributed real estate, what are the types of purpose-based workspaces that employers need to offer?
NH: Activity-based work was undoubtedly happening in many workplaces before the pandemic, and people were using offices for specific purposes. However, now that the concept of working from anywhere has taken hold, companies cannot expect employees to come into the office each day just to be in the office or sit at a desk.
So the new purpose-based-workspaces will really be more human-centric and will aim at providing spaces that support community, collaboration, inclusion, diversity, inspiration, innovation and well-being. These are workplaces that will offer a lot more value to the employees as they even did before.
The companies' long-term success relies on the productivity, creativity, health, and happiness of employees, and we need to provide space that maximizes these.
How do you see technology like VergeSense enabling these types of workspaces?
NH: The future of work, the hybrid model, the dynamic work, all these strategies cannot be implemented without the technology that enables real-time data. And this is why I was so excited to join VergeSense. It will be nearly impossible to embrace the freedom of choice for employees without underlying data on how and where people work. The workplaces of the future will be more experimental, so corporate real estate and workplace strategy leaders will need to measure success along the way and iterate in real-time. VergeSense sensors provide real-time occupancy and building engagement data to illustrate how employees move from one space to another smoothly and feeling more inspired, healthy and committed along the way.
Furthermore, VergeSense is really about making buildings talk. If we give employees the flexibility and freedom of choice on where they work, they need the workplace to 'speak' to them to inform their decisions. Employees are going to demand more information to make a choice. They will want answers to questions such as: How busy will be the workspace today? Is my friend or my team planning to come to the office? What is the expected noise level? What is the expected air quality? Can I book a corner for my team to meet? Is there a company event happening live? Can I exercise or learn something new at the office today? Where can I make a new friend?
All this information is critical to allowing employees to thrive within this freedom, and VergeSense enables that.
Do you think technology can finally make agile seating work at scale post-pandemic?
NH: Before the pandemic, there was tension between workplace real estate leaders and employees around agile seating. The root of that tension was that employees were forced to come into the office five days a week. Therefore, they were very much attached to their assigned desk or space as their home within the office. Agile seating proposals became the scary prospect of giving up their sense of workplace ownership.
Now that everything has been turned on its head and employees are given the freedom to come and go when and where they please, I don't think we'll have the same issues. Employees are not going to fight for their space in the office, mainly because they're never just going to be coming into the office for the sole reason of sitting at their desk. As a result, they'll likely be less resistant to agile seating.
Philosophies with agile seating, such as the neighborhood strategy, where teams are given a corner of the office furnished with desks, high tables, sofas, and chairs ('a neighborhood') may prove useful. With this approach, these teams can reserve a space when they decide to come together, one or two times a week, but retain the flexibility of not being desk-bound.
Companies shifting to remote-first such as Twitter, Square and Salesforce are redesigning their offices to be more experimental, agile and purpose-driven workspaces.
How do real estate executives cut through all the data that smart buildings provide to find the most valuable information?
NH: Being awash in smart building data is a real challenge, because there's not one legacy company or technology solution that has historically led the way with providing mission-critical data. There's a lot of competitors in the market and even more data noise. So for CRE and workplace leaders, it's a challenge to choose between competitors that are offering similar data inputs or integrating different technology. I know that VergeSense is working hard to create a seamless integration. This, for me, is visionary and forward-thinking in the eyes of buyers. These buyers want the ability to see all the most important data on a single dashboard.
In addition to occupancy data, we're also now seeing demands for environmental data such as air quality. Interestingly, the vast majority of companies were already designing workplaces pre-pandemic for better ventilation and access to outdoor spaces. Especially in Silicon Valley, there has always been a focus on ventilation, greens all around, and the desire to reduce CO2 emissions. However, most companies were not effectively tracking or leveraging the data on how these initiatives were impacting the day-to-day work environment for employees. We now know that greenery impacts physical health as well as cognitive health so all workplaces will embrace biophilia and share the information to their employees.
It's only when workplace leaders are given a wholesome picture like this that they can truly make key data-driven decisions that ultimately optimize performance and spur innovation in the workplace.
Thank you, Nellie, for taking the time to speak with us!
NH: Thank you!