The 8 Best Designed Offices of 2022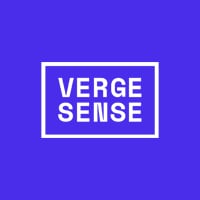 VergeSense is the industry leader in providing enterprises with a true understanding of their occupancy and how their offices are actually being used.
As we ease into the new year, we decided to audit the best designed offices of 2022.
With so much change and workplace uncertainty in the past few years, it isn't easy to figure out a formula for what truly is working in the office. So, we made a list of the best designed offices this past year based on employee satisfaction, flexibility, and inclination to adapt and embrace change.
So without further ado, here's a list of the 8 best designed workplaces this past year.
1. Microsoft- Sydney, Australia
Microsoft is the largest vendor of computer software in the world, and is the leading provider of cloud computing services, video games, computer and gaming hardware, search, and other online services.
Microsoft is also known for having among the most technologically advanced offices globally. Here are the features of the company's flagship office in Sydney, Australia:
10,000 sq ft across 7 levels set a new benchmark for collaboration powered by advanced technology, enabling employees to work "whenever and wherever."

The workspace design incorporates Australia's most iconic landscapes taking employees and visitors on a journey to discover their desks and meeting spaces.

The journey throughout the office combines elements of nature while balancing integrated technology, intelligent lighting, robotics and workplace occupancy sensors that are all linked to the Microsoft platform and into their Smart Buildings program.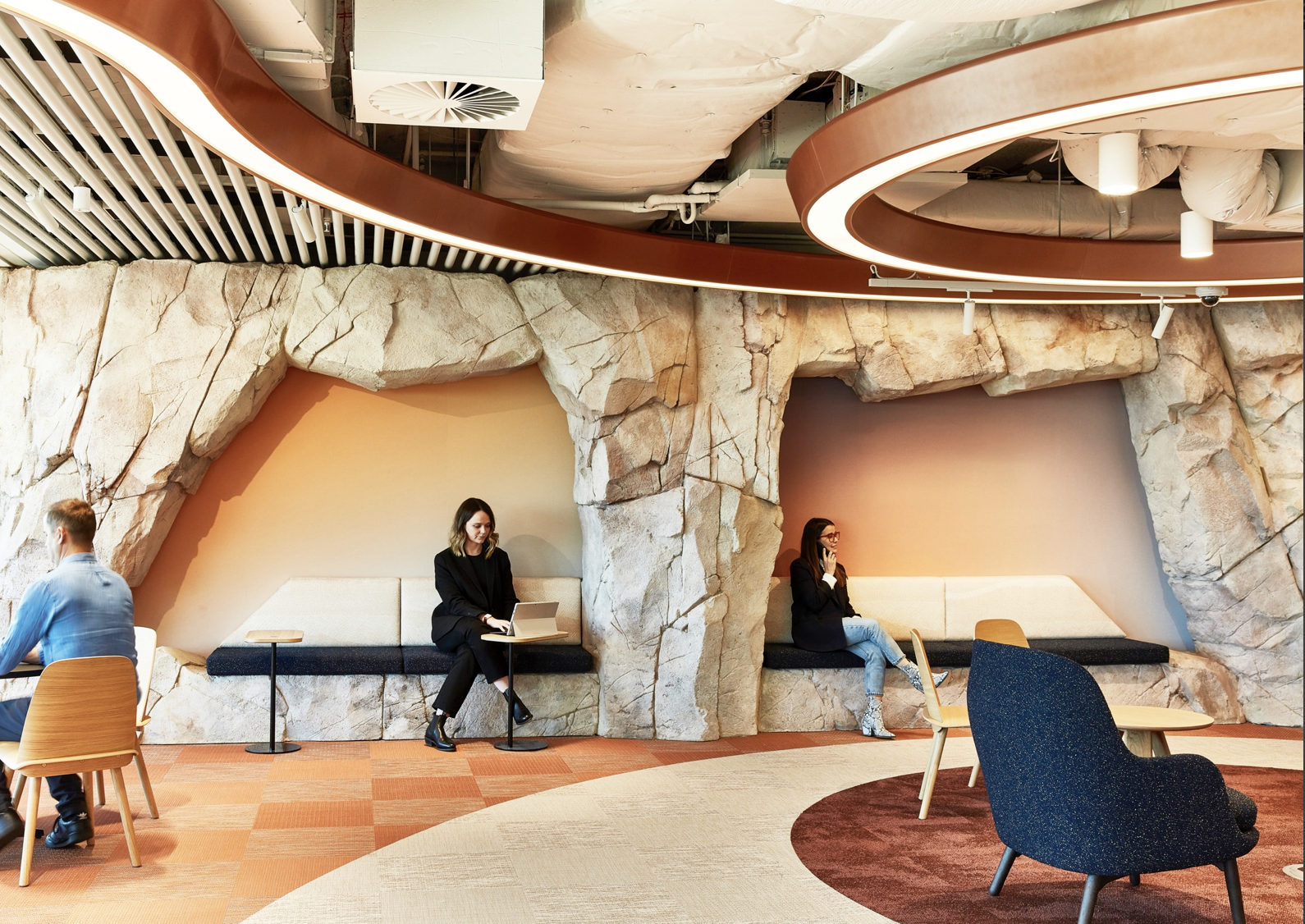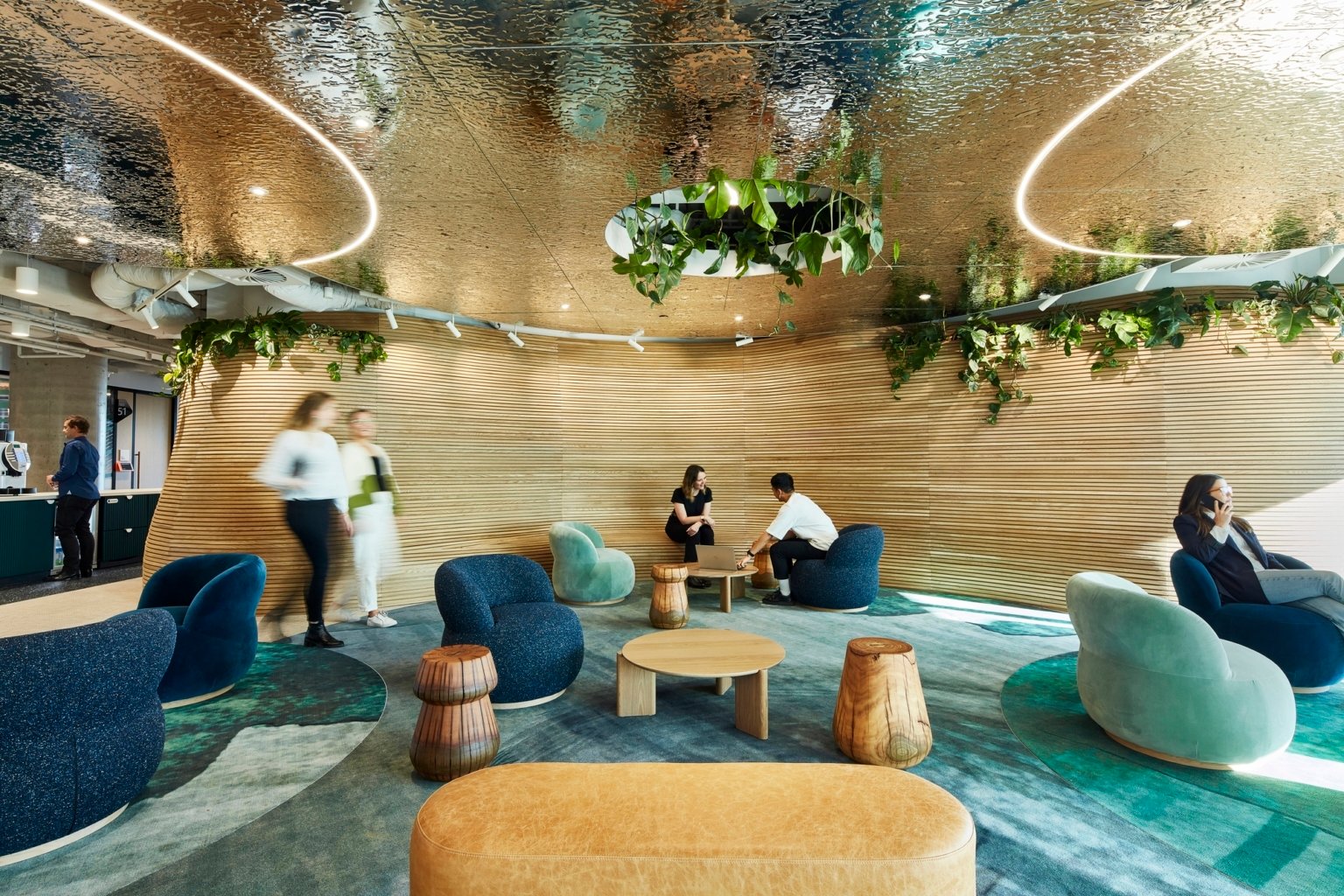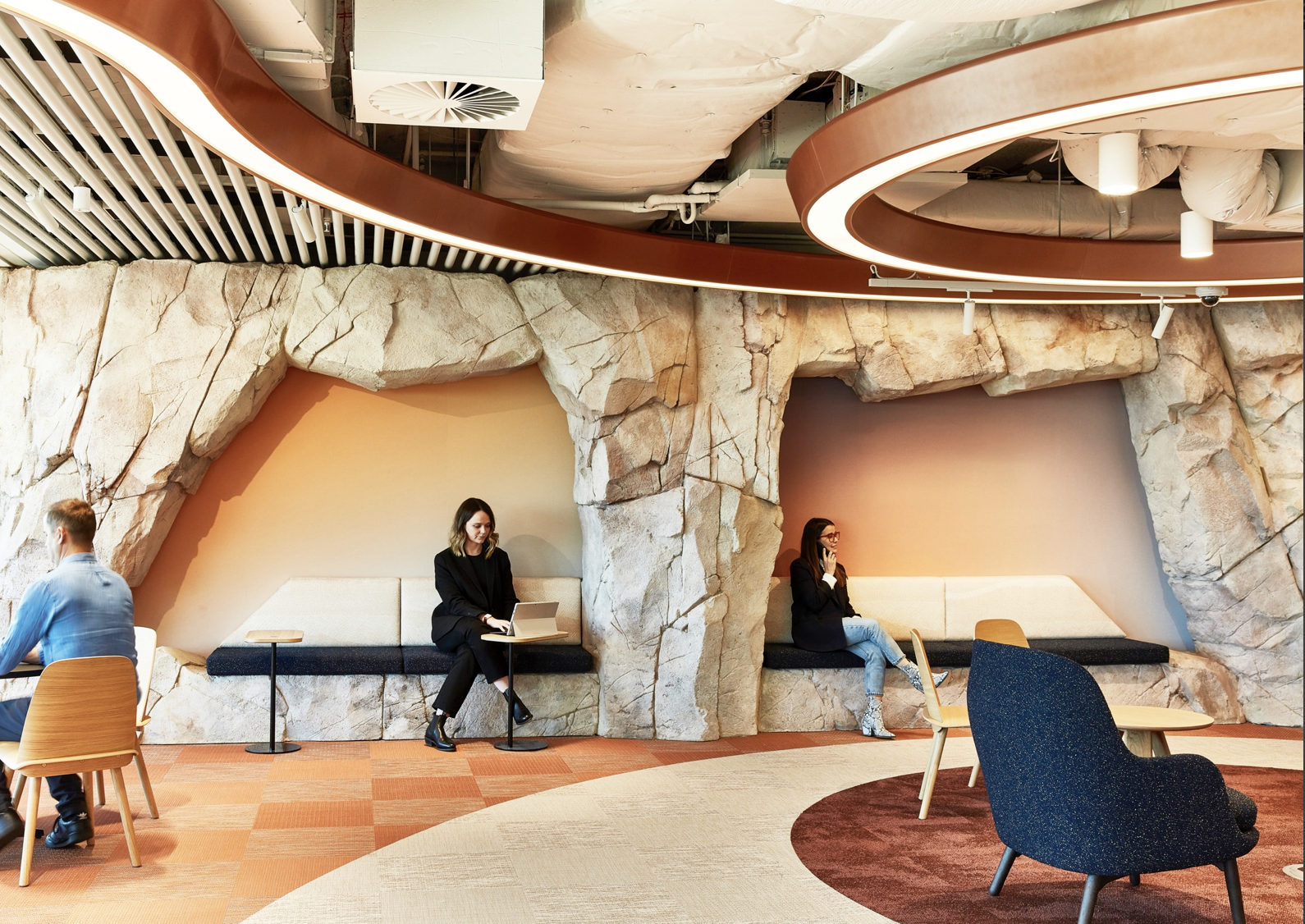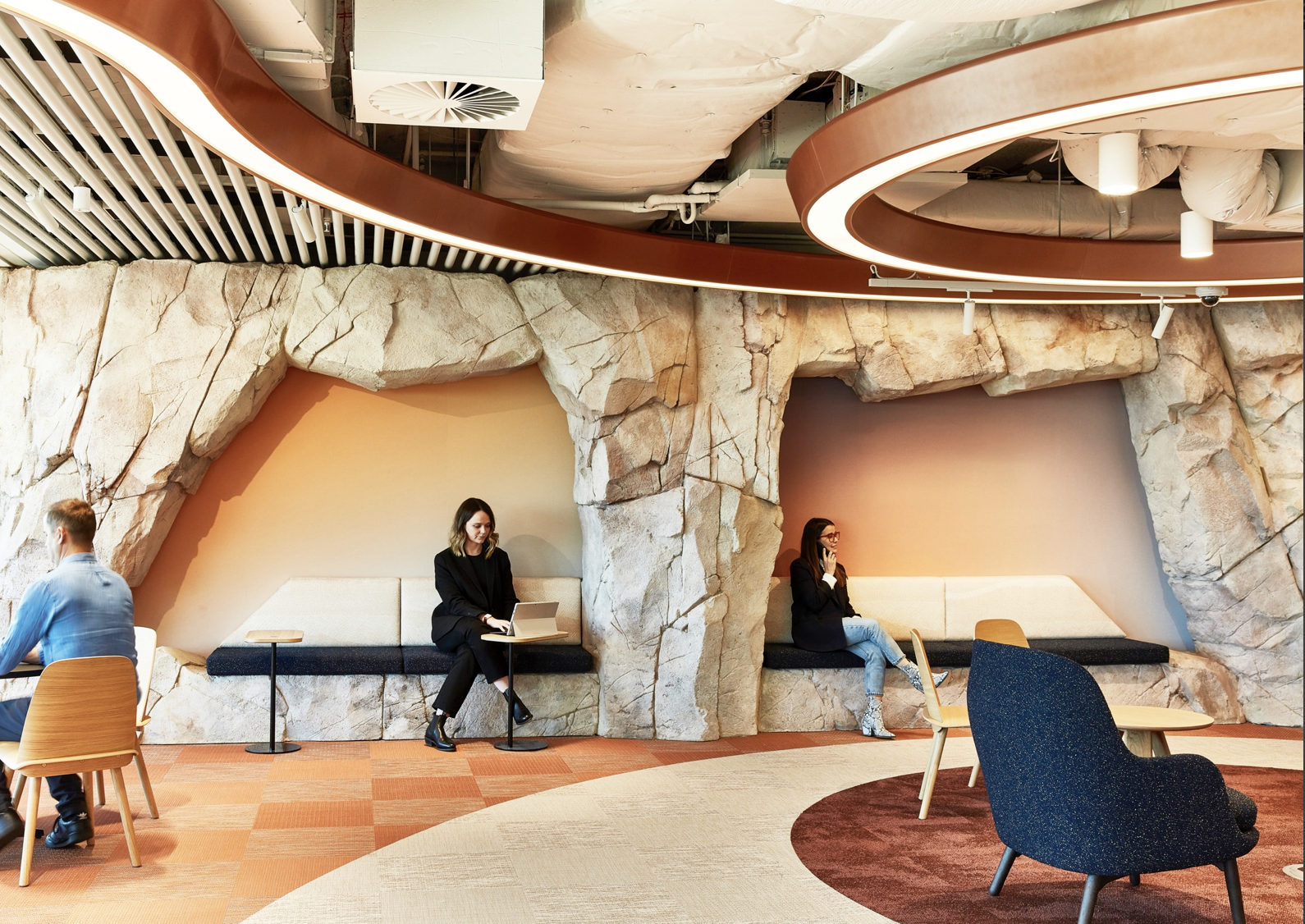 Image 1: Microsoft Office in Sydney, Australia. Source: Office Snapshots
2. Spotify- NYC, NY
The world's leading digital music streaming service, Spotify is leap years ahead in terms of its office design. The Swedish-based company has workplaces all over the world, and today we put a spotlight on the company's New York office:
They moved from a 1:1 focused office experience to a distributed and growth mindset team experience.

Uses qualitative and quantitative data for the changing demographics, personalities and technology advancements.

Has adopted an experimental philosophy to redesign the space by collecting quantitative data (occupancy sensors) and qualitative data (surveys) on an ongoing basis and the space adapted to what was required. The workplace continues to evolve organically with step-by-step experiments and testing new innovations.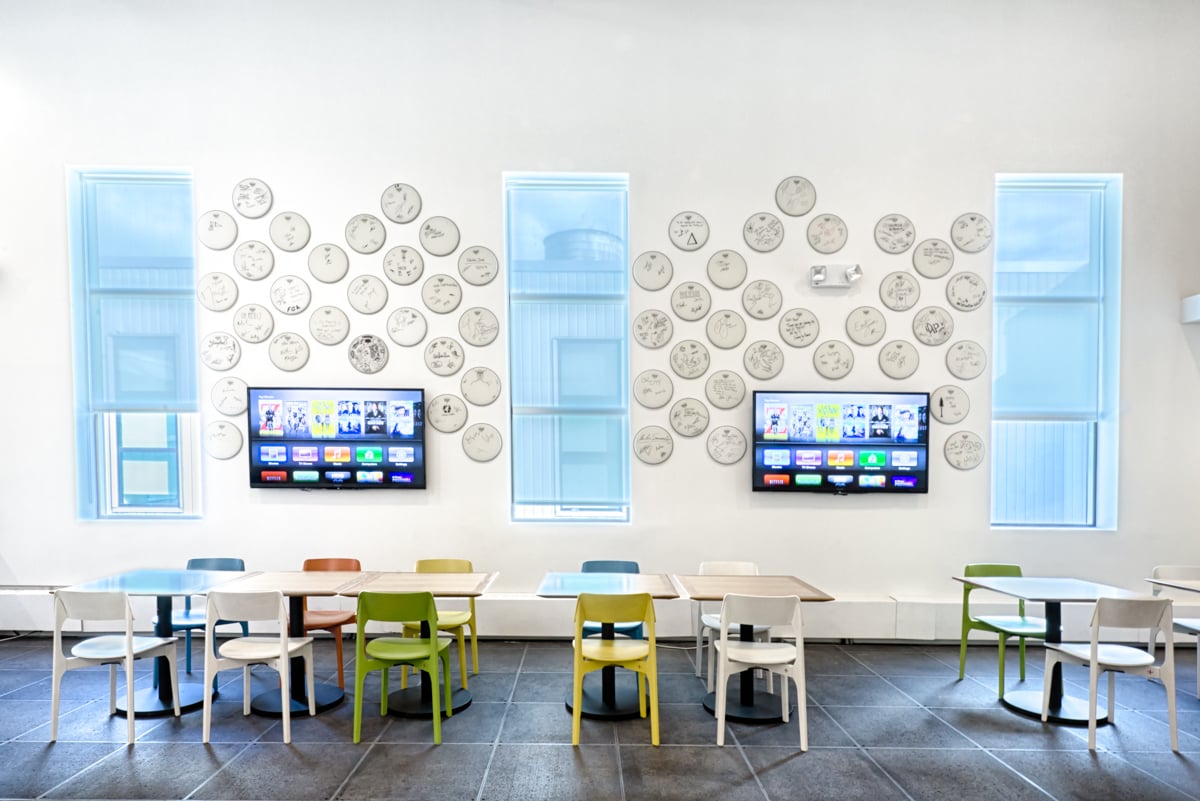 Image 2: Spotify office in New York City. Source: Officelovin'
3. Deutsche Bank- NYC, NY
This financial giant had already started exploring new and flexible ways of working before the pandemic, with particular emphasis on agile seating. Here are some of the features of the Deutsche Bank office in New York City:
The bank has primarily leveraged occupancy sensor technology to create a completely flexible and adaptable workplace design strategy.

The non-trading floor workspace uses sensors to track the occupancy of desks and conference rooms. This data is then integrated to desk and room reservation systems for easy access and insight into available spaces.

The office has a series of green walls composed of plants that create a sense of vitality. It also has multiple food courts, dining areas, bars, health and wellness facilities, mother's rooms and even a pool hall that serves as a lounge during the day.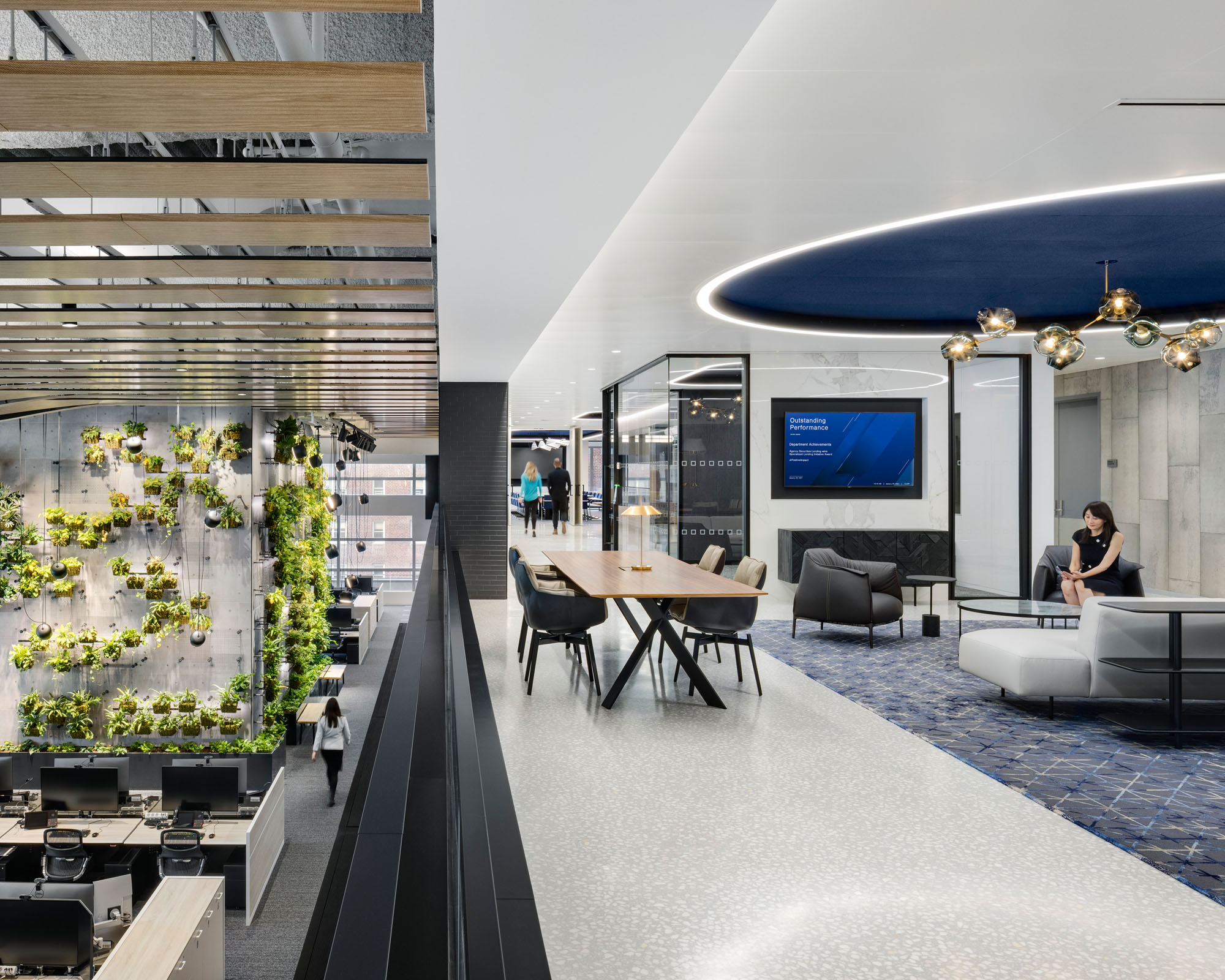 Image 3: Deutsche Bank office in New York City. Source: Metropolis
4. Twitter- San Francisco, CA
Twitter is among the most famous social media platforms in the world, with over a 140 million active users that engage in public conversations daily. Here are key features of the Twitter office in San Francisco, California:
Incorporated a lodge within a lounge as a space for collaboration.

Employee focused design that led to incorporating three cafeterias throughout the office, including a Barista coffee cafe.

As the creator of hashtags they translated the hashtags into creative art work #LoveWhereYouWork throughout the office to build on brand recognition.

Transformed the building's ceiling into a rooftop deck to enable employees to work outside, have wellness classes and to host events.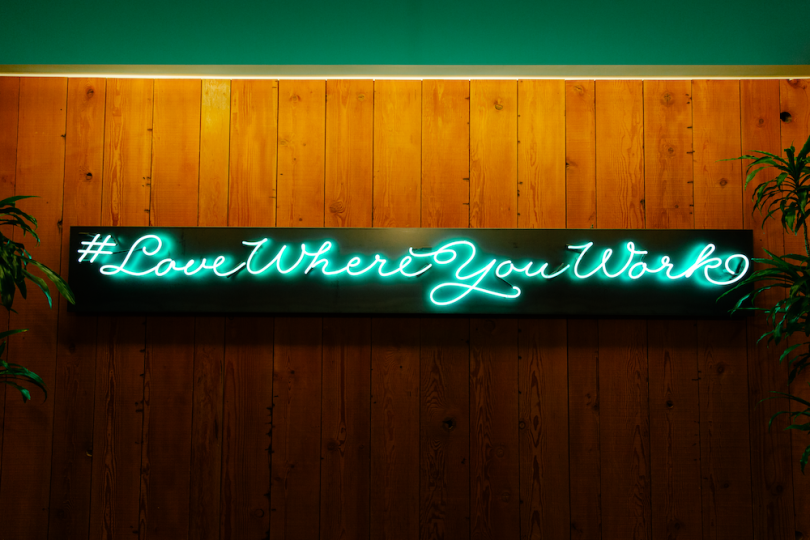 Image 4: Hashtag wall art in the Twitter office in San Francisco. Source: Built in SF
5. Adidas- Herzogenaurach, Germany
Adidas is one of the world's biggest multinational corporations that designs and manufactures shoes, clothing, and accessories. It is the largest sportswear manufacturer in Europe, and the second largest in the world after Nike.
Its flagship office in Germany has the following design characteristics:
Human-centric building design that focused on corporate culture to enable creativity to thrive. Specifically feelings, passion and purpose.

Blending home with workplaces, employees were brought in at every stage of the design.

Established a global workplace concept, MyArena, where employees' voices are heard to share how the office should evolve to enable them better work together, to be more creative and to foster collaboration.

Spaces are designed with the intention of collaboration, so that folks can bump into each other for serendipitous meetups.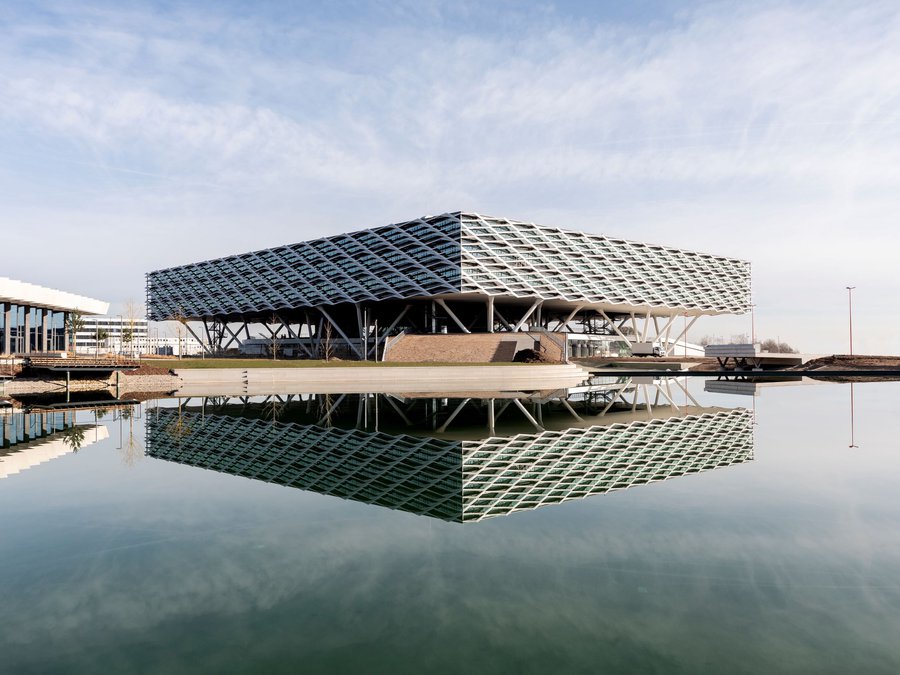 Image 5: Adidas headquarters in Germany. Source: Adidas
6. Lululemon Athletica- Vancouver, Canada
Another giant in technical athletic apparel, Lululemon's headquarters in Canada boasts the following:
Transformed 24,000 sqft into a client facing meeting office and collaboration facility.

Stairs throughout the building connect collaborative spaces to complement their motto of "elevating the world from mediocrity to greatness."

The office reflects the brand mission by having a luxurious fitness area for staff that includes a yoga studio, workout area, meditation room with spa inspired showers.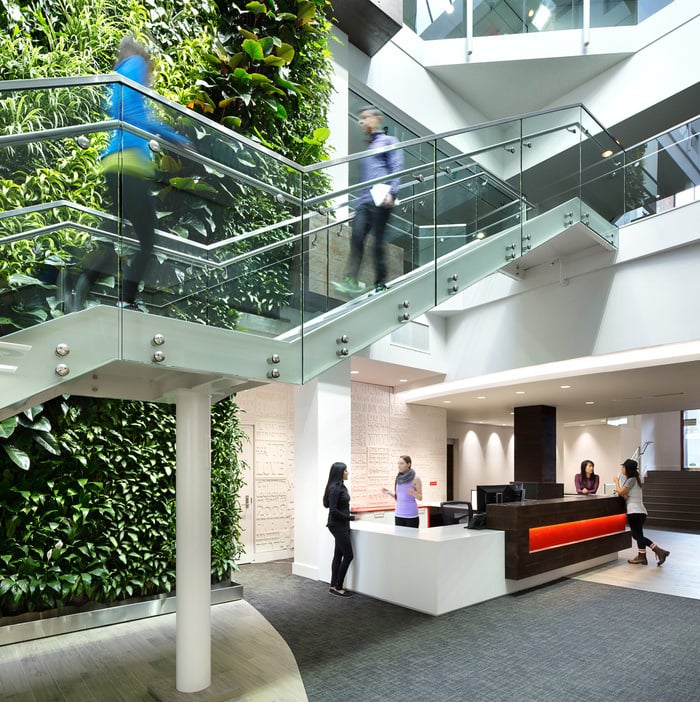 Image 6: Lululemon office in Vancouver, Canada. Source: Office Snapshots
7. Lego Group- Billund, Denmark
Now a household word, the Lego Group office completely reflects actual Lego blocks, with interlocking plastic bricks illustrated throughout the office's design in Denmark.
Sustainability is key to the Lego office design, and onsite solar parks produce enough energy to match 100%of the factory's requirements.

The 54,000 sqft campus mirrors lego blocks. The exterior building walls are constructed with the lego bricks and logo etched into the brick walls themselves.

Building design is brand focused so it is playful, inspires creativity and innovative thinking.

Reference to the Lego products are reproduced everywhere from the parking garage, inspired by the lego road playmats, vibrant colors, geometric forms and the lego sculptures pieced together.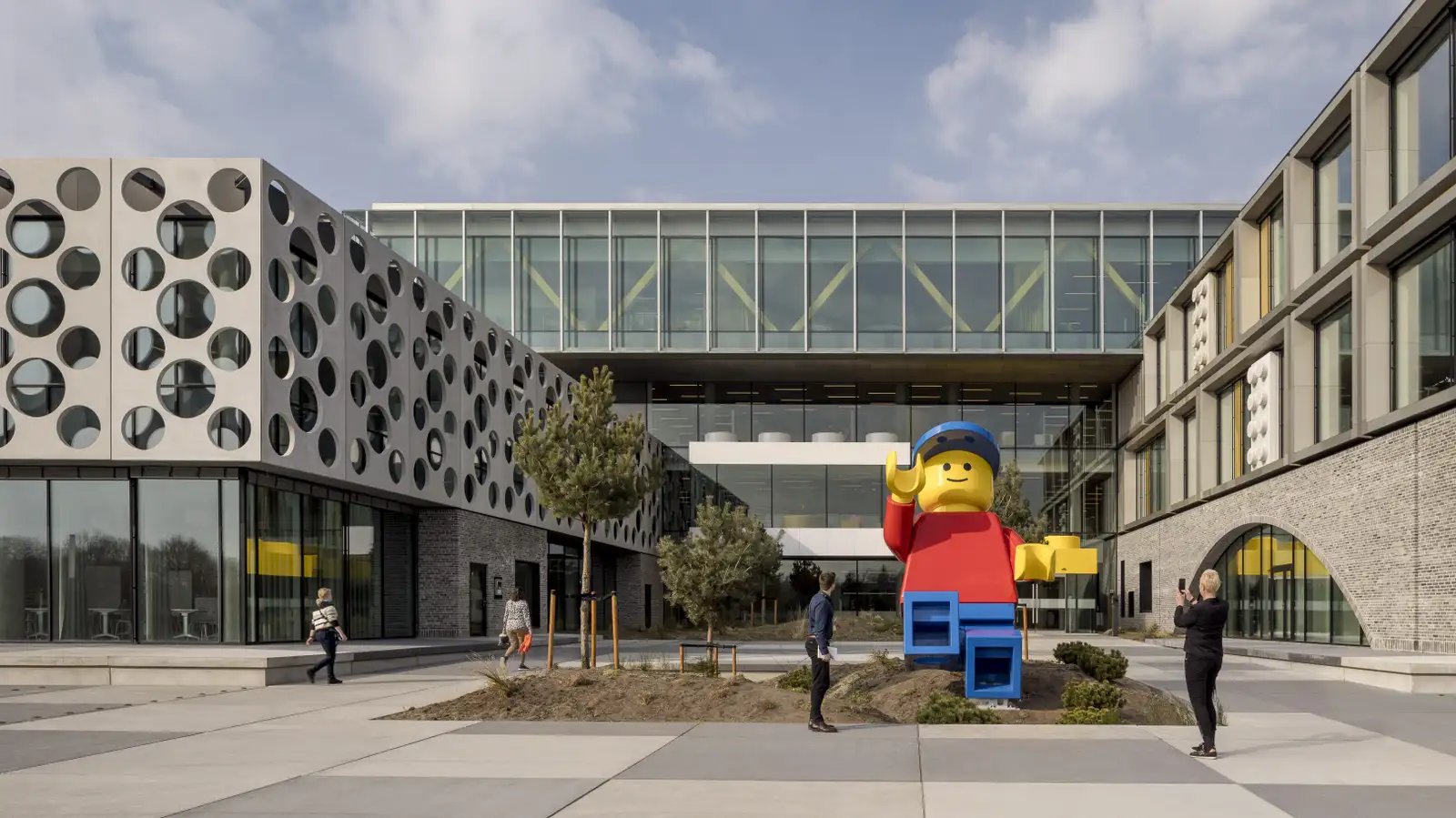 Image 7: Lego office in Denmark. Source: Quartz
8. Vodafone- Rotterdam, Netherlands
The leading telecommunication company, Vodafone's office in Netherlands has sustainability embedded in every aspect of its workplace design strategy:
Old-style boiler room design was transformed into a workspace that would help motivate employees and reduce turnover.

Open floor plans designed with a series of smaller work spaces.

Plant-covered "greenhouse" concept with open plan spaces, bright accents and colorful floor tiles to help motivate and energize employees.

Games zone provides table football and video games, cafe and comfortable collaborative space. As a result, employees are friendlier, less stressed and more patient.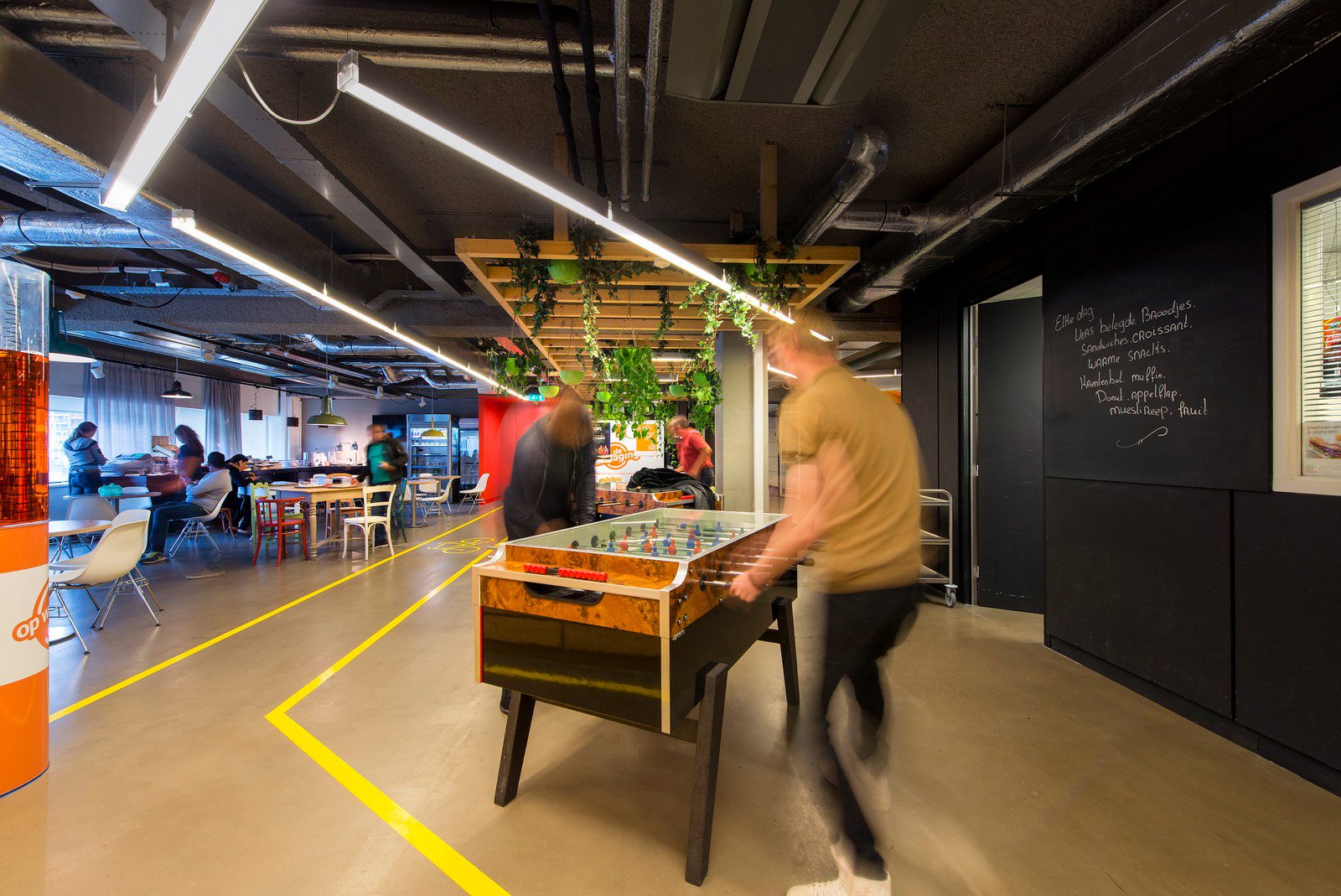 Image 8: Vodafone office in Rotterdam, Netherlands. Source: Office Snapshots
Struggling to create a workplace design strategy that works?
Today, uncertainty around occupancy often impedes workplace design decisions, and can result in designing spaces that are not suited to actual employee expectations and demands.
As the purpose of the office continues to evolve, and employee expectations continue to change, it is imperative to build a workplace design strategy that elevates productivity, innovation, and makes employees want to use the workplace.
So, how can you build a workplace design strategy that accommodates this rapid change?
And most importantly, how can you ensure that your current workplace design isn't impeding your company culture and employee engagement?
We broke it down for you. Here are 4 best practices for creating an effective workplace design strategy.