Key Takeaways from Diving into Data: How to Get Workplace Transformation Right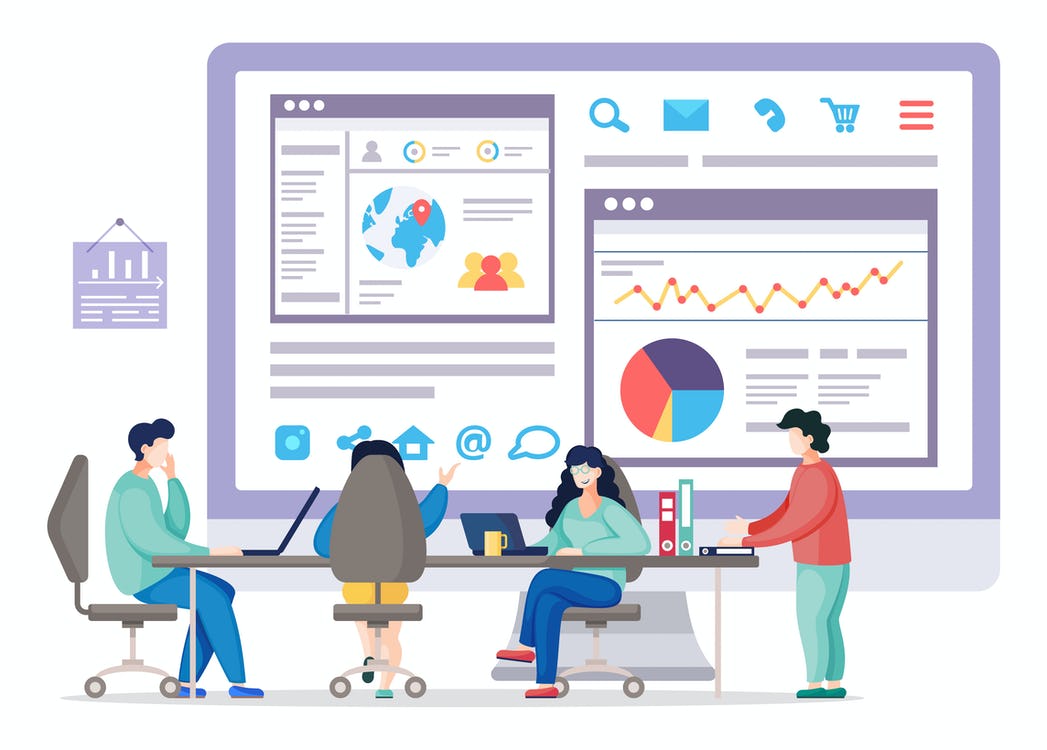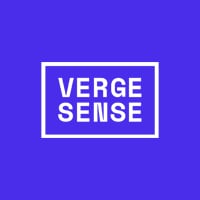 VergeSense is the industry leader in providing enterprises with a true understanding of their occupancy and how their offices are actually being used.
Last week, VergeSense Head of Workplace Transformation Nellie Hayat joined Antonio Brunner, Digital Workplace Director from Deutsche Bank and Sid Bhatia, Director of Workforce of the Future at PwC for a special WORKTECH Academy hosted discussion centered on the future of work in a post-pandemic world. One thing is certain, the future of work is increasingly complex. Collaboration no longer only happens in person, work no longer happens only in an office. The acceleration of remote work and distributed teams warrants a dynamic realignment of workspace strategy to address unpredictable new patterns of digital and physical interaction.
Harnessing workplace data to analyze and understand these patterns is key to future success, and some companies have already embarked on the journey to digital transformation. Others are hesitating at the gate, unsure of when to move and what the process might be.
Throughout the conversation, panelists explored the barriers to change, the opportunities to attract the best talent, and how to develop a more diverse workforce. What are potential pitfalls and how might we mitigate them? What are the rewards – and how might we measure and evaluate them?
See a summary of the key takeaways below. Or if you're interested to see the discussion in its entirety, view the on-demand recording of the conversation here.
Inflection point: COVID and the current return-to-office movement
COVID and the current return-to-office movement is creating a major inflection point in the workplace transformation journey. When asked the question, "How has the global COVID-19 experiment in work-from-home and work-from-anywhere affected future workplace policy?" 88% of the webinar attendees said their organizations are seeing this as an opportunity for long-term transformational change. On the contrary, only 5% of attendees said they want to go back to the way the office was before this shift. Sid Bhatia observed "There's a Return to Work task force and a Future of Work task force and what we're finding is that the two are converging."
The truth of the matter is that employee expectations and demands have changed forever. Companies who are using the current return to office movement to prioritize workplace transformation and meet the needs of their employees will create a competitive advantage.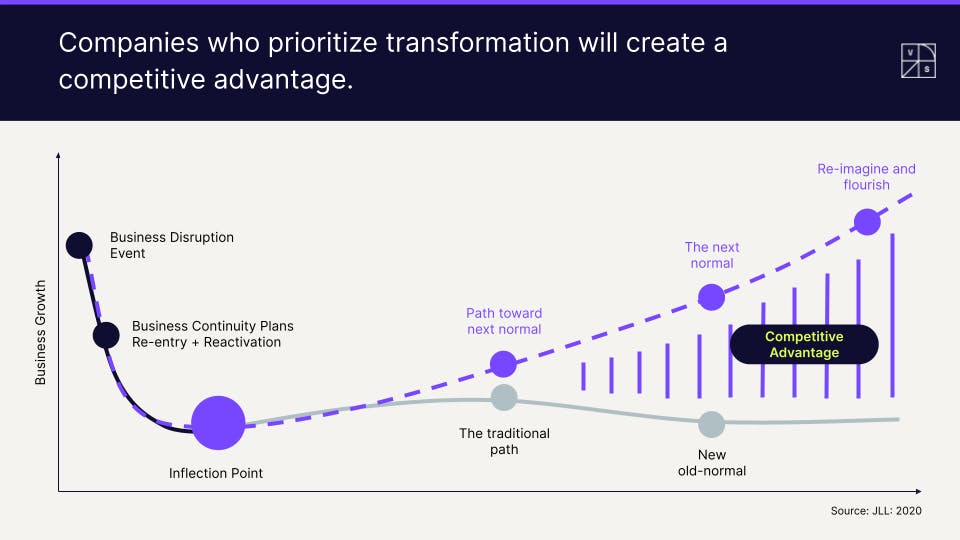 Employees don't want to return to pre-COVID "normal" and honestly, neither do enterprises. It's essential for enterprises to transform the workplace by optimizing and equipping it with the right tools for collaboration, teamwork, and professional development.
A new post-pandemic office culture must embrace hybrid working
Digital transformation in the new hybrid world of work is not technical – it is cultural. Business leaders are on the brink of major updates to accommodate what employees want: the best of both worlds. According to Microsoft 2021 Work Trend Index, 73% of employees want flexible remote work options to stay and 67% of employees want more in-person work or collaboration post-pandemic.
"Workplace transformation isn't just about the IT infrastructure or the physical workplace. The biggest challenge is culture, in trusting employees to work independently with new ways of working," says Antonio Brunner, Digital Workplace Director at Deutsche Bank.
To maximize employee productivity and satisfaction, there is a need to accommodate a hybrid workplace. 66% of business leaders say their company is considering redesigning their office space for hybrid work. But what exactly does this redesign look like? How can workplace transformation be accomplished? Ultimately, corporate real estate and workplace leaders need to work with business leaders to shape what that office transformation will look like to garner a highly productive hybrid workforce.
Using data to rethink the ratio of individual work to collaborative space
Today, VergeSense is measuring over 40M square feet of real estate globally. We used this dataset to look for any signals that could help predict what employee office behavior might look like post pandemic. Most notably, we observed an increase in the use of collaborative spaces, a trend that we expect will increase.
In January of 2020, 83% of office space was allocated to individual work while only 17% was dedicated to collaborative work. However, also in January of 2020, collaborative spaces were 25% more utilized than spaces dedicated to individual work — a statistic that strongly hints at the modern worker's preference to mingle more closely with co-workers and the need for corporate real estate professionals to accommodate this growing preference with more dynamic seating.
During the webinar, Nellie Hayat highlighted that, "Organizations won't be able to justify having less than optimal and healthy workplaces. Data is available and employees will be more demanding regarding what they get out of their visit to the office. Having the right data to align workplace strategy and design decisions is critical." To keep up with employee expectations, enterprise leaders must utilize data to rethink the size of their real estate portfolio, the location of their offices and the value proposition of each one in order to bring employees back to the office.
Action Plan: Four phases to create a dynamic workplace
Employees' needs and expectations have drastically changed within the past year. Employees want to return to the office for collaboration, but they're also feeling anxious. Companies need to communicate with their employees NOW and instill confidence that it is safe to return to the office. The pre-pandemic office layout needs to be modified to ensure physical space is used effectively and drives consistent value for employees.
To gain a competitive advantage, changes to the employee and office experience need to be made today. The VergeSense Return to Work Framework outlines 4 phases to create a dynamic workplace to ensure workplace leaders are meeting the demands of employees and exceeding their expectations during the transformation period.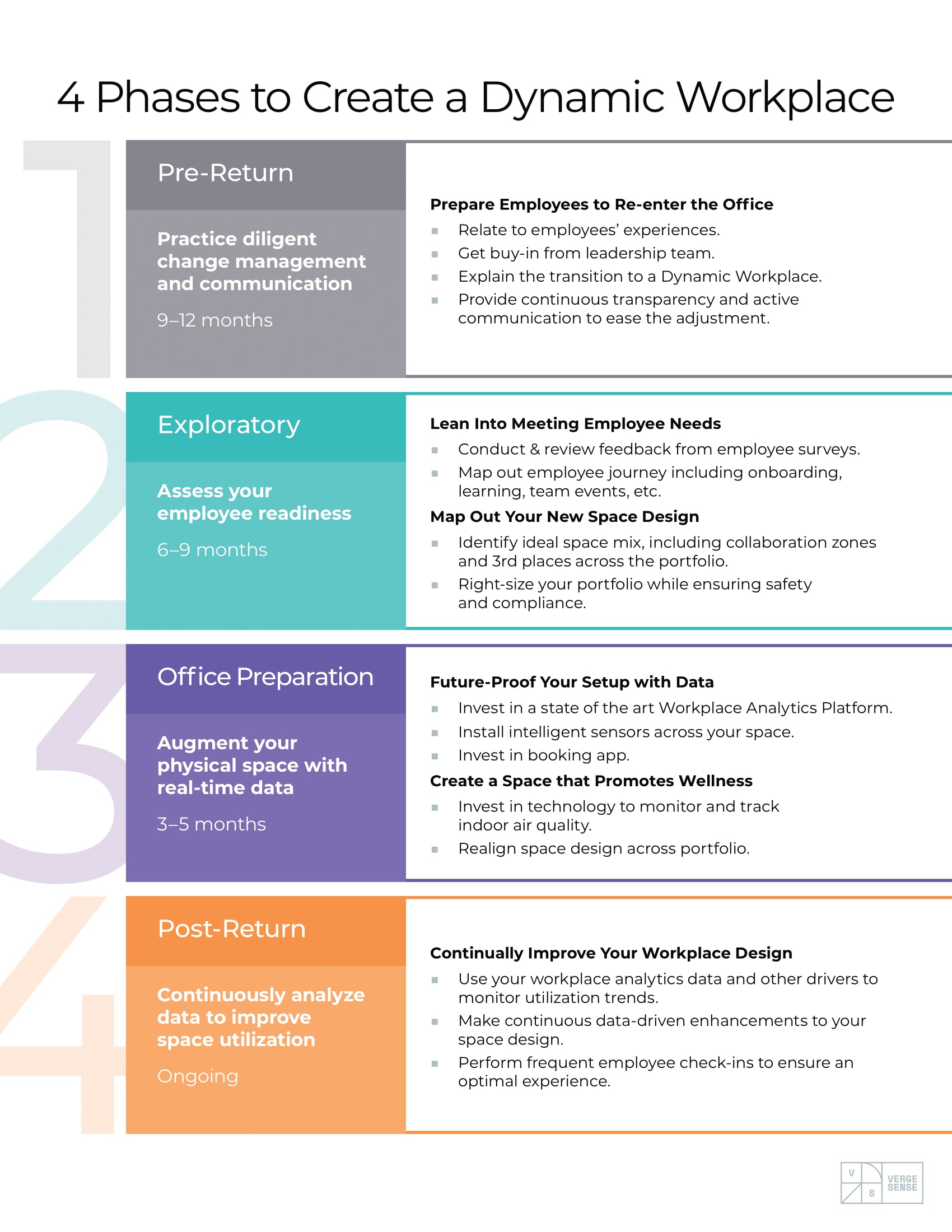 Final thoughts
In the final poll of the webinar, attendees were asked, "In returning to the office, what are you most looking forward to?" The majority of people said they are most excited to connect with colleagues face-to-face.
Recent data collected from VergeSense shows interest in using space for in-person collaboration has grown despite all the forces against it: safety concerns, social distancing protocols, and the convenience of Zoom calls. This growth is our loudest signal predicting how employees will value the office moving forward — and it makes sense. In a new world where work location is a choice, employees will return to the office to gain the most important element they have been missing: time with each other.
By addressing your employees' needs, you boost employee satisfaction which leads to higher levels of productivity. Watch the webinar, Diving into Data: How to Get Workplace Transformation Right to learn more about workplace transformation in the post-pandemic era.