How Pharmaceutical & Life Science Companies Optimize their Spaces with VergeSense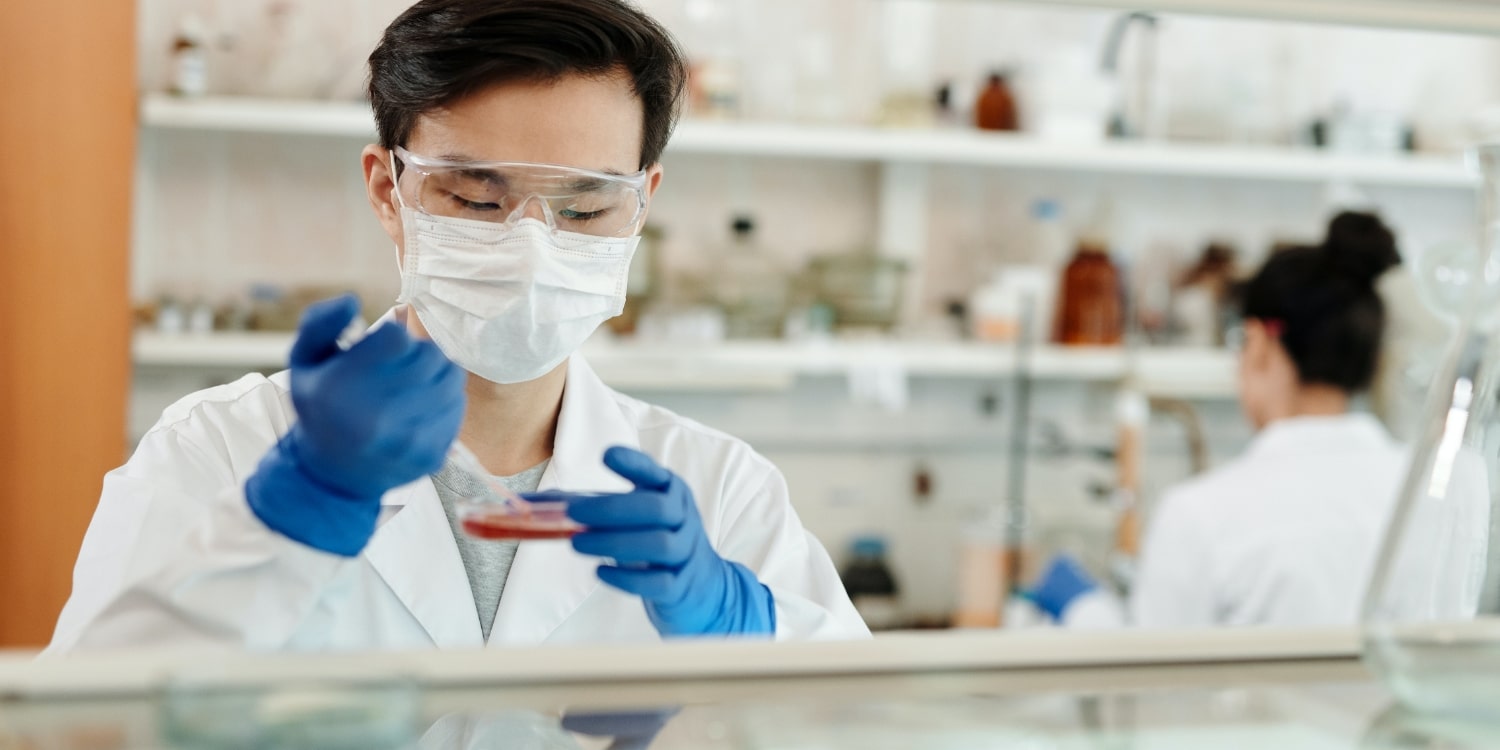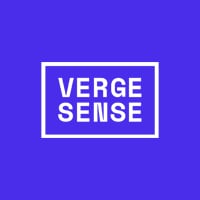 VergeSense is the industry leader in providing enterprises with a true understanding of their occupancy and how their offices are actually being used.
The pharmaceutical industry is facing unique circumstances when it comes to managing their workplaces. Not only is pharma one of the few industries with labs in their workplace, but also, the most recent Occupancy Intelligence Index report revealed that the pharmaceutical and life sciences industry has the highest capacity usage of all industries, presenting them with challenges (and opportunities) that greatly differ from other industries that aren't as far along in their return-to-office and hybrid working journey.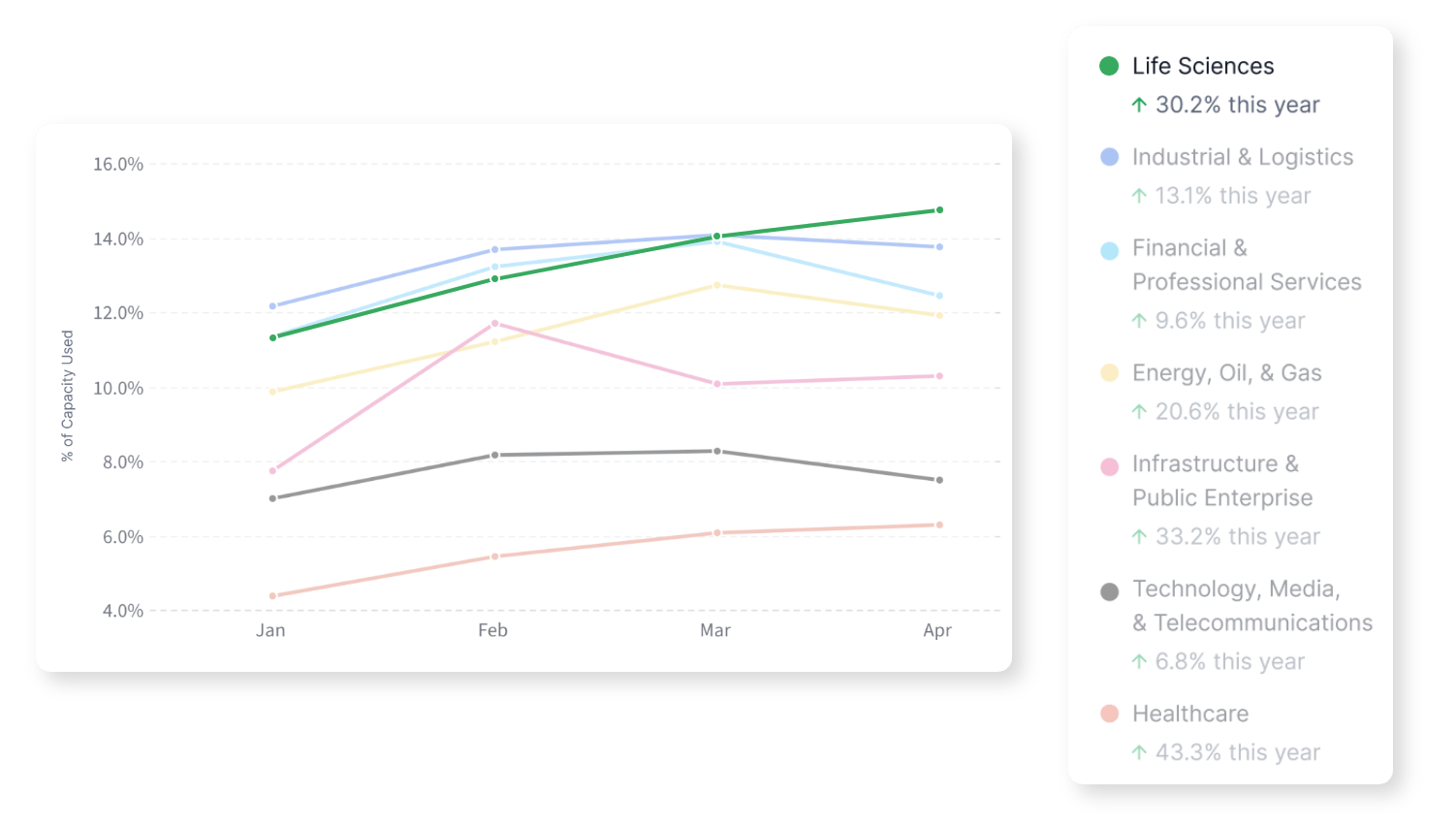 This high workplace utilization is primarily due to the specific nature of pharmaceutical work; operations such as laboratory research, manufacturing, and shipping pharmaceuticals require employees to be physically present in the office. Remote work is simply not feasible for these key functions, leading to consistently high usage and significant growth. This industry's robustness continues even amidst today's macroeconomic slowdown, allowing workplace and CRE leaders in the life sciences industry to continue to invest in and focus on workplace development.

Pharma and Life Sciences Workplace Challenges
In pharmaceutical and life sciences workplaces, three key goals stand out for workplace leaders:
Optimizing lab footprint and design
Enhancing space utilization
Ensuring Success of Dynamic Work Models Across Campus
Essential insights for optimizing lab space lies in understanding how many team members are using the space and how often, as well as how frequently the equipment at each workstation is operational. Understanding this is the first step towards making decisions around optimizing the total footprint of the labs, the lab design/layout, energy consumption, and cleaning schedules.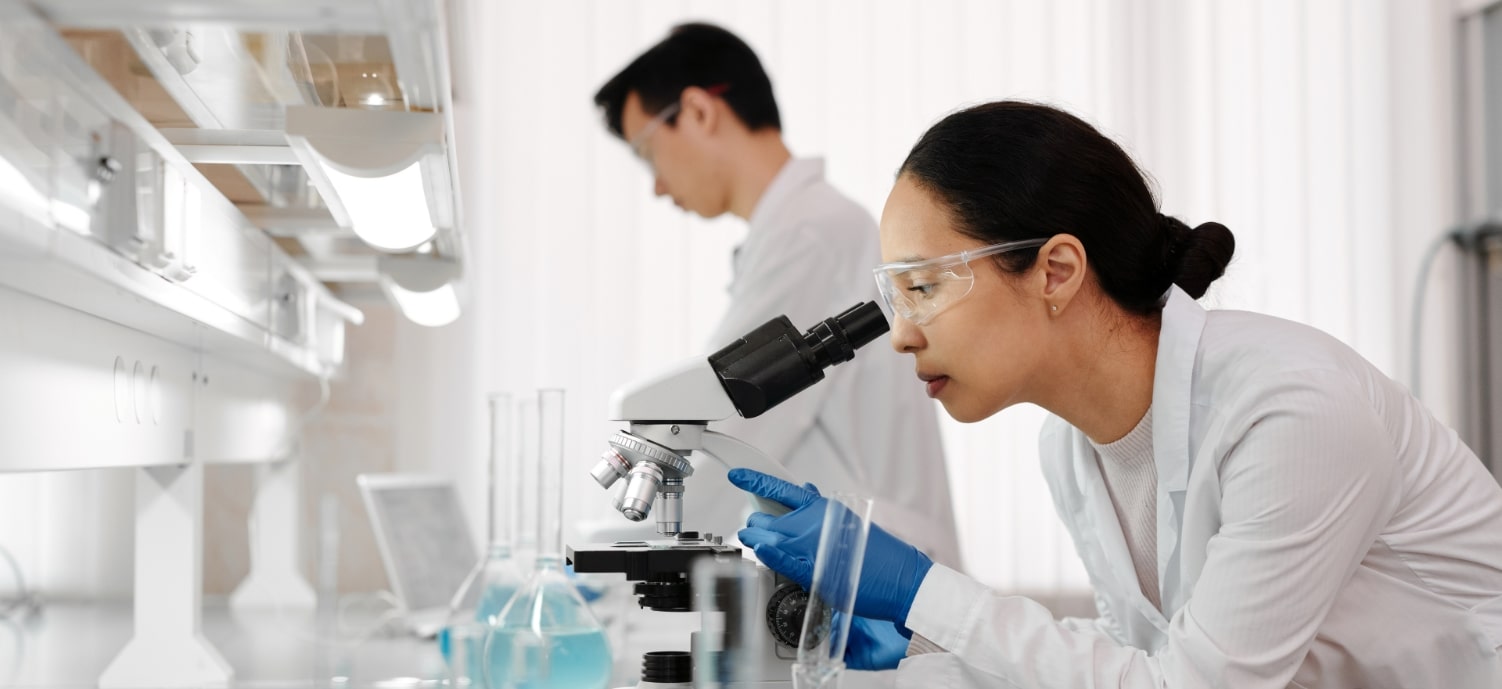 Outside of labs and within office spaces, leaders aim to create environments that foster collaboration. To achieve this, they need to identify the most and least popular areas and determine why certain spaces remain unused. Additionally, they need to determine their ideal space mix and how much space each business unit requires.

Finally, as unassigned seating becomes more and more common, tracking meeting room usage and helping employees locate available workspace across sprawling campuses is crucial for a seamless and productive workplace experience.

With the VergeSense Occupancy Intelligence Platform, workplace leaders can tackle these challenges head-on, armed with data-driven insights to optimize their spaces and improve employee experiences.
Optimizing Lab Footprints and Lab Design

Pharmaceutical and life sciences workplaces are inherently unique as they are one of the few industries with lab spaces, giving workplace leaders new challenges to tackle, especially as special attention is often put on these spaces due to their high cost per square foot.

Many pharma companies are also looking at increasing their lab-to-workspace ratio, which makes it all the more important that lab spaces are highly integrated with the traditional workspaces so employees can have seamless physical connections and sightlines into the labs from individual and collaborative workspaces. Workplace leaders are also deeply considering team adjacency needs when it comes to placing neighborhoods near labs.
Usage Map
Make the necessary lab space adjustments and optimize your real estate spend by understanding, at a glance, how many people are using each of your labs - and how often.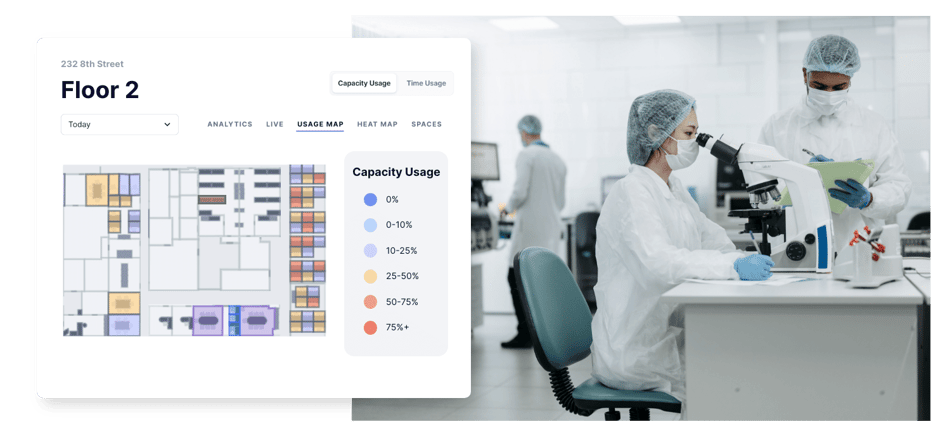 Workplace leaders must first understand the capacity usage (number of people detected across the selected space(s) divided by the total capacity) as well as the time usage (total time the space(s) were in use divided by the total time the space(s) were available) of their labs. Understanding these measures of space efficiency is crucial, because these spaces cost so much money to build, maintain, and clean. It is vital to understand employee usage patterns to determine if more or less of these spaces are needed, or if their designs need to be reconsidered.
​​Heat Map
Optimize what you're spending on expensive equipment by understanding when, and how often, that each workstation is really being used.

Because of the expensive nature of buying and maintaining lab equipment, c-suite executives and workplace leaders are increasingly concerned with understanding how often their lab equipment is being used. This can help inform what equipment they should be investing in (or shedding), as well as help them determine which pieces may need maintenance or repair due to frequent use.

Where Usage Maps provide capacity and time usage insights for the overall lab space, Heat Maps allow workplace leaders to easily understand how frequently each individual workstation and piece of equipment is being used. The heat map also allows this information to be distilled quickly, by evaluating the map colors to determine hotspots in seconds.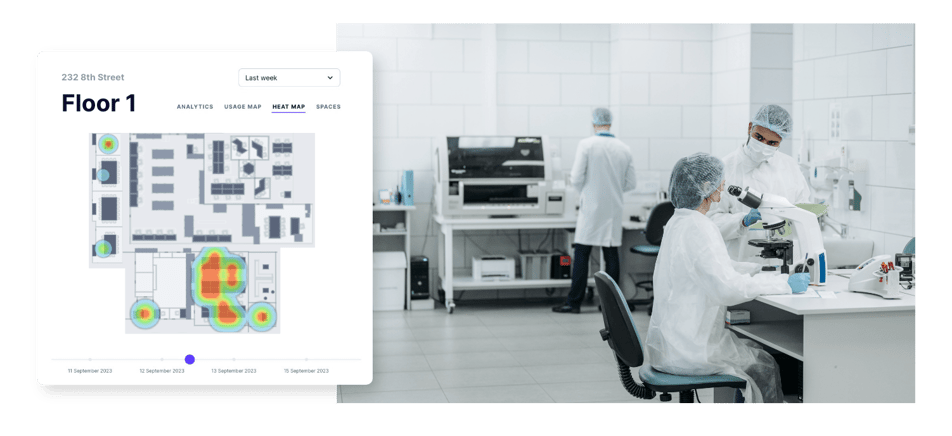 Here you can see how one of the world's largest pharmaceutical companies is using VergeSense within their lab spaces to monitor each workstation as its own space. This allows them to easily understand how frequently each workstation is being used and if it's properly sized and located.
Optimizing Office Space Design
Pharma is ahead of the curve when it comes to returning to the office because of how much of their employees' work is centered around being in the office. Because of this, workplace leaders have already started optimizing their designs to foster a collaborative employee experience, but they need help understanding how their design changes are helping their teams operate, where their employees are spending their time, and how much of each space type they need in their new integrated design models. They also want to understand what gaps exist in their current designs.
Usage Map
Make data-driven design changes after identifying which space types and neighborhoods are the most and least popular so your teams can be happy and productive inside and outside of the lab.

One of the top priorities for workplace leaders as they begin optimizing their office space design is understanding which spaces are the most and least popular so they can repurpose unpopular spaces and add more popular spaces as necessary. Without data, this can be entirely subjective, leading to assumption-based decision-making.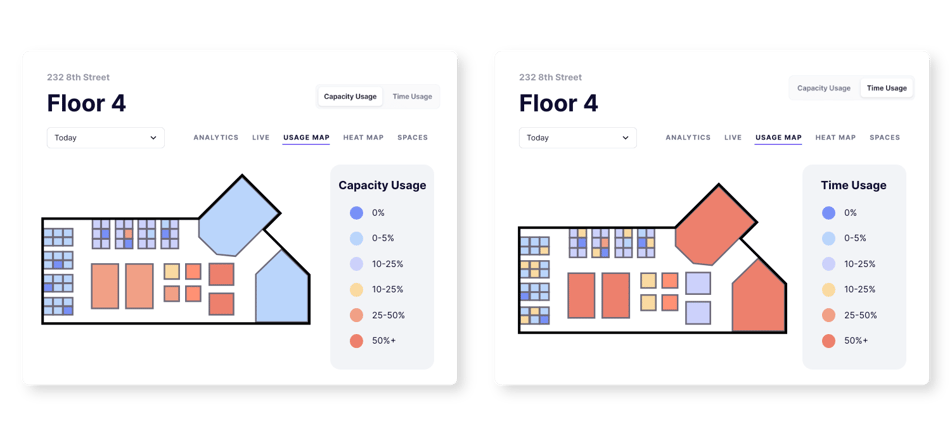 With Usage Maps, workplace leaders can identify where employees are spending the most of their time, as well as which spaces are the most/least popular. Workplace leaders can then use this data to evaluate which space types they may need more of to accommodate employee demand and which spaces they should eliminate due to low engagement.
Passive Occupancy Detection
Make design decisions with a true understanding of how your spaces are being used: actively by your team or passively by common objects that indicate a human presence.

Sometimes, popular spaces aren't in use during uncharacteristic days or times and this can lead to a lot of questions as to why. Gaining a true understanding of how spaces are being used by people and objects can help provide clarity, as many times, popular spaces aren't in use by employees because objects are reserving the space for someone else.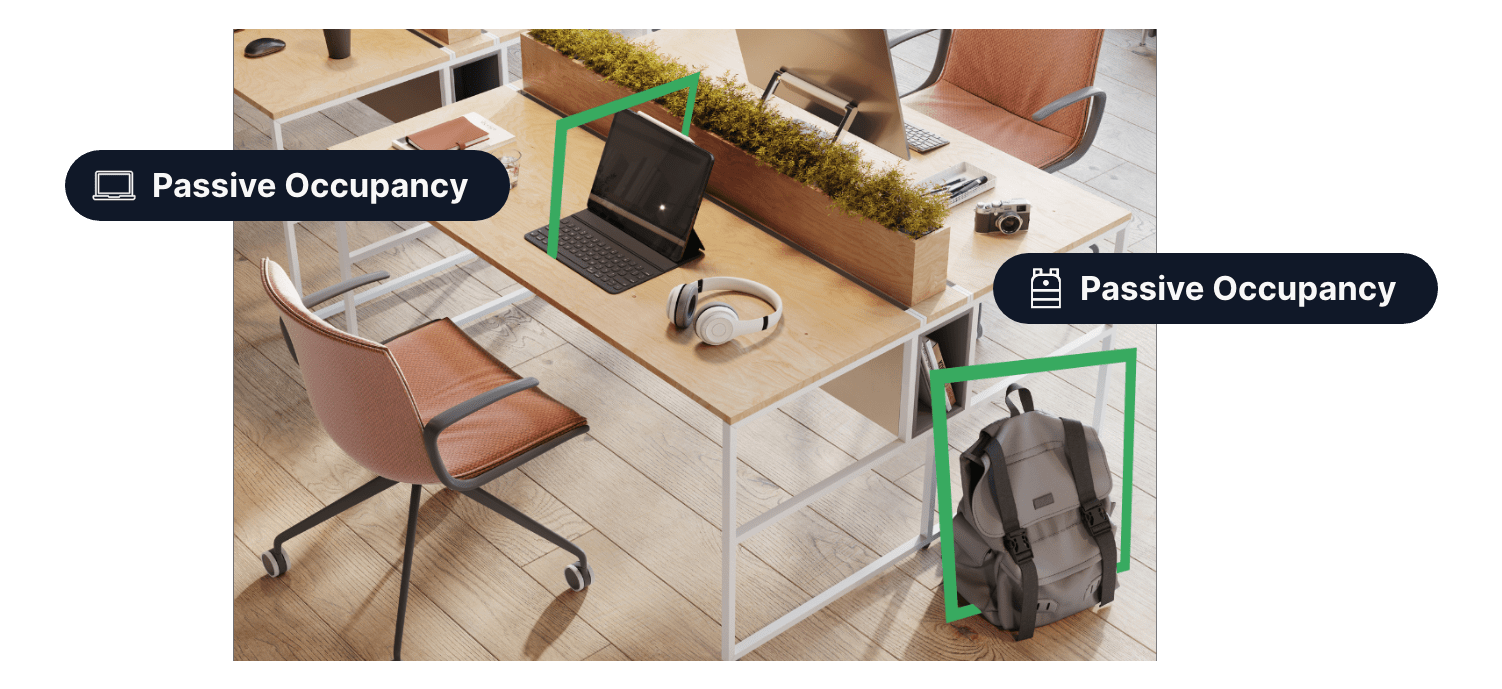 Only VergeSense offers passive occupancy detection. This innovation identifies common objects that indicate human presence, even when no one is physically there. This type of occupancy constitutes up to 50% of all usage. By leveraging passive occupancy data, workplace leaders can gain deeper insights into how spaces are truly used. This knowledge empowers leaders to understand inefficiencies in how their employees are using the office so they can make necessary changes to the spaces themselves and encourage behavior changes when necessary.

Another global Life Sciences organization leveraged VergeSense and discovered that many spaces were consistently "occupied" by laptops, bags, and clothing - not humans. By gaining a true understanding of their occupancy with Passive Occupancy Detection, a global biotechnology company discovered that they could assign 30% more employees to their existing office footprint and avoid a $13M portfolio expansion.
VergeSense x ChatGPT
Make data-driven decisions faster than ever. Through its natural language interface, VergeSense x ChatGPT becomes your data-science co-pilot that provides insights on the performance of your space designs in minutes.

Data provides the answer to nearly any question workplace leaders may be having; however, analyzing it is easier said than done. Workplace leaders across the globe are looking for an easier way to analyze data to uncover the answers to key design questions like:
What is my ideal space mix?
Which spaces do I need more of?
How much space does each business unit or team need?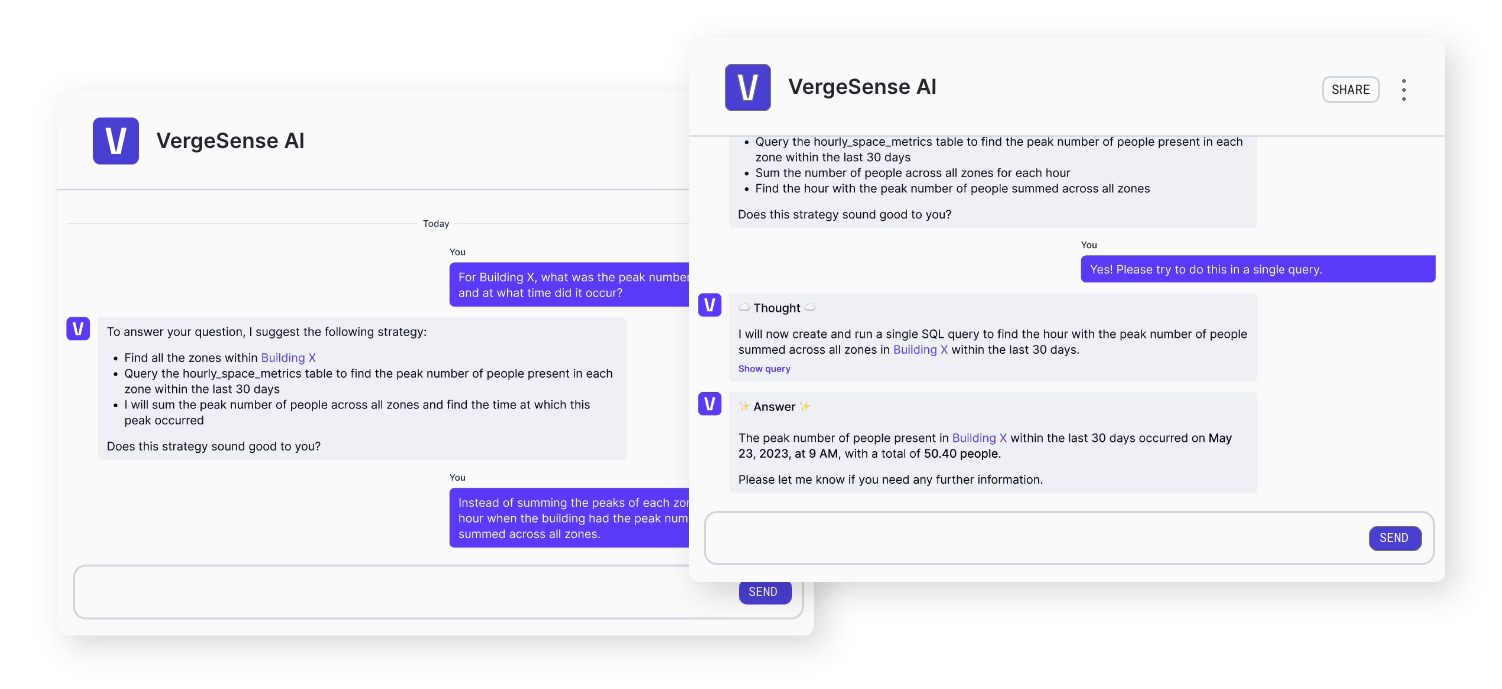 Our secure and private integration with ChatGPT allows workplace leaders to ask questions about their occupancy data so they can understand where to go next. ChatGPT will dive into your data to discover your ideal space mix, which spaces you need more of, how much space a business unit or team needs, which spaces are frequently near or at capacity, and anything else you may be wondering about. It amplifies the speed at which workplace leaders can innovate and start using their data to make concrete strategies and decisions without needing to consult a data expert.
Ensuring Success of Dynamic Work Models Across Campus
Pharmaceutical organizations have continued to transition to fully hybrid, dynamic work models, leading to increased adoption of new ways of working, such as unassigned seating and activity-based work. Not only does this impact how workplace leaders are optimizing their spaces, but it also impacts how employees work and interact with spaces. Oftentimes, workplace leaders have to help employees adjust to the new ways of working and change inefficient behaviors.
Space Booking Automation
Automatically release unused bookings and allow other employees to use these spaces, helping to create a frictionless work environment while optimizing your space availability.

Addressing inefficiencies caused by employee behaviors and responses to today's dynamic work environments often starts with understanding how meeting rooms are being used. When booked meeting rooms are not actually used, but still show as booked in your system, it leaves employees struggling to find open meeting rooms for them to collaborate in.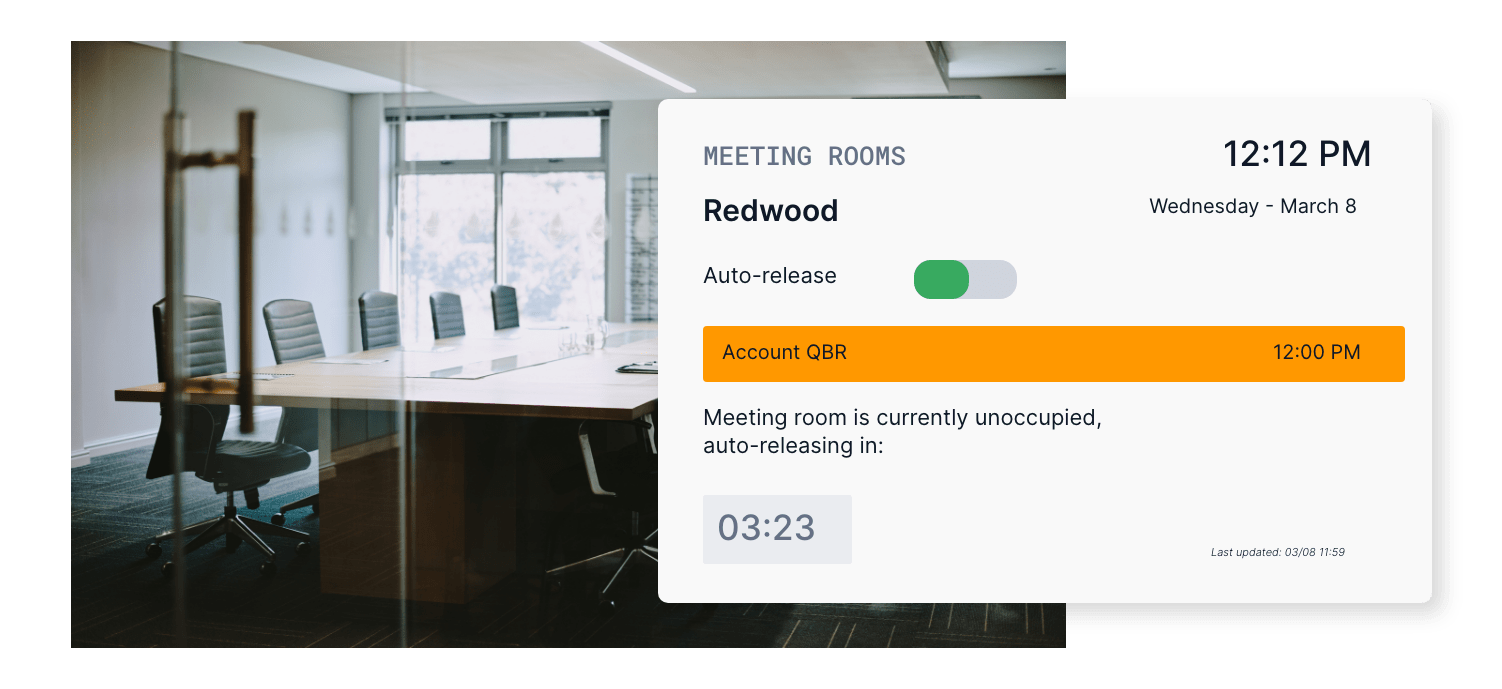 Ghosted meetings account for 37% of all meetings worldwide, meaning that these meeting spaces are going unused - but they're available. Even when a space is booked but unused, other employees won't use it and have to search for unbooked, empty rooms, despite no one actually using the booked space. This causes wasted time and a poor employee experience. This can also skew occupancy data, leading to incorrect conclusions that the spaces are going unused due to planning and design-related factors. VergeSense space booking automation uses occupancy data to automatically release any booked spaces that are ghosted or end early so other employees can use the space, improving employee experience and improving your bottom line by ensuring the square footage you are paying for can be utilized.

Kiosks & Real-Time Availability
Make it easy for employees to find and reserve available spaces to work anywhere on your campus, whether it's on the same floor or in a different building.

As employees move across your campus, they want to be certain that they will have a space to work at. Walking across a large campus just to struggle to find a place to work is an experience with little to be desired.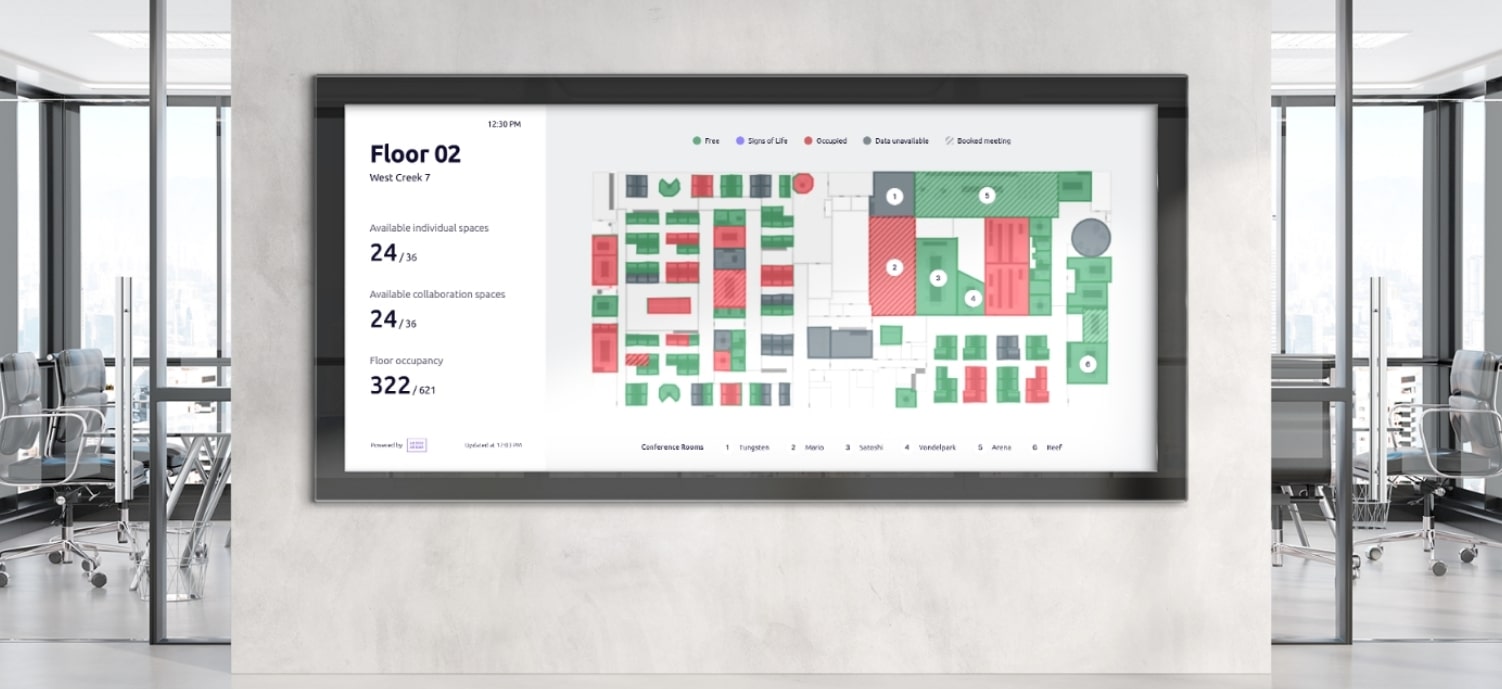 Kiosks help employees manage unassigned seating and activity-based work models by giving employees access to real-time availability so they can find the open space they need and providing a larger inventory of space to look for beyond their current floor. Because it is natural employee behavior to remain on one floor throughout the day, kiosks help employees feel comfortable and motivated to switch floors or buildings because they can see that the space they are looking for is actually available somewhere. This reduces the wasted time and friction associated with searching for available spaces manually.

A global pharmaceutical organization relies on VergeSense to better understand how often their lab equipment is being used. As you know, this equipment is incredibly expensive and understanding it's utilization is critical when assessing the overall efficiency of their lab spaces. VergeSense wired area sensors provided the solution to their dynamic lab by offering poll rates every 30 seconds, ensuring the frequent movement of people between equipment is accurately captured.
Optimize Your Workplace With VergeSense
In conclusion, VergeSense has proven to be a transformative solution for the pharmaceutical and life sciences industry, addressing unique challenges tied to high workplace utilization and the specialized nature of their work. In the fast-evolving landscape of pharmaceutical and life sciences workplaces, VergeSense arms workplace leaders with actionable data and insights. This, in turn, allows for the continuous improvement of spaces, fostering innovation, collaboration, and ultimately, the success of the industry's workforce.