The Office Was Only 40% Utilized in 2018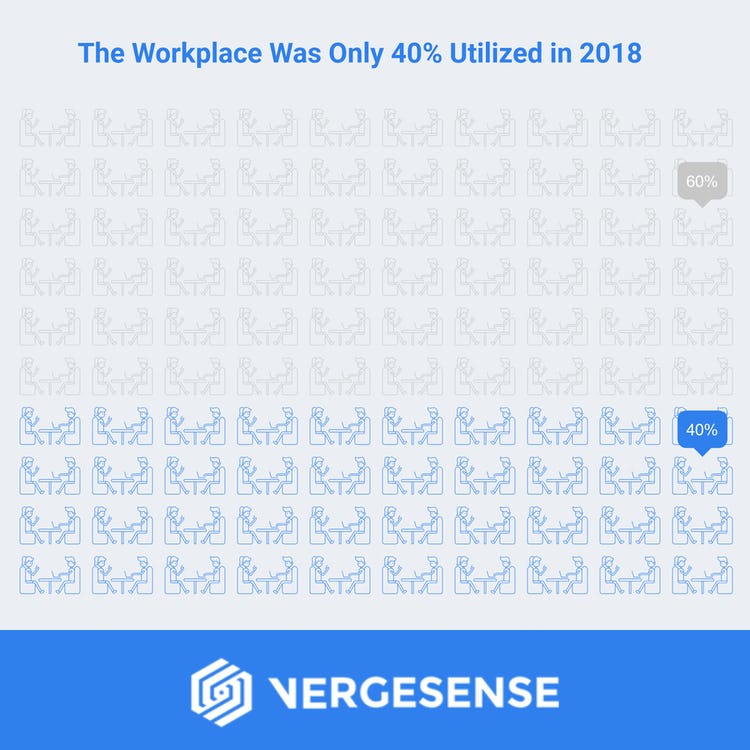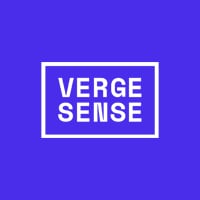 VergeSense is the industry leader in providing enterprises with a true understanding of their occupancy and how their offices are actually being used.
What Can We Do to Optimize Workplace Engagement in 2019?
Another year has come and gone, giving us the opportunity to look at what went right and wrong in 2018, and how we can plan to do better in 2019. And, when it comes to office utilization, there's a lot to improve upon in the coming year.
Data collected by the VergeSense sensor-as-a-service platform from across 1 million square feet of workspace shows that the average utilization of an office was 40% in 2018. With the average cost per square foot of office space on the rise, facility managers and employers should learn how to better use the space or consider undergoing a downsize in the coming year.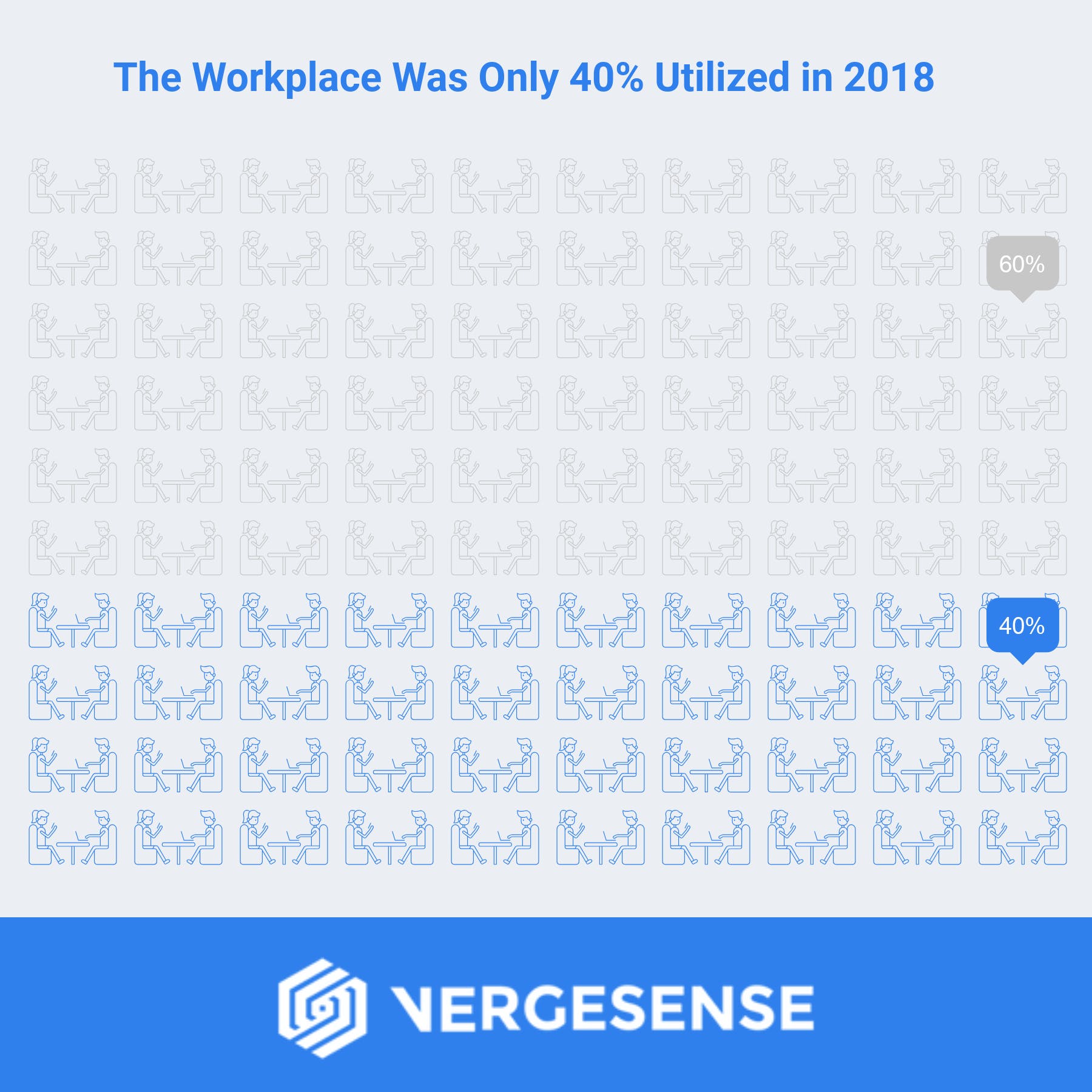 How did we get here?
Office space not being used 60% on average seems crazy. How did this happen and have others noticed this trend?
Certainly, macro trends like remote work, hot-desking and co-working have influenced the utilization of physical offices over the last decade. But the industry has also lacked any solid way to understand the real-time use of office spaces in the past. Thanks to a historic lack of data in commercial real estate and facilities management, there hasn't been a way to know how much space is or isn't being used.
Proptech and sensors like our own have only recently been introduced to the CRE space, and are typically slow to be adopted. Due to this, we're just now gathering enough data to see how much space we really need. With tech in the real estate space predicted to be the next big disruptor, we believe 2019 will see wider adoption of AI and new technology in property management, which means we'll be able to get more real-time data on how much office space is actually necessary.
Besides not having the data to quantify space utilization, there are also larger trends present in the workplace that are moving away from traditional office structure and design. Long gone are the days of cubicles, heads-down work mentalities, and higher-ups in big, inaccessible offices.
Even conference rooms, which are feasibly useful, are going to the wayside. Our data shows that 30% of conference room bookings end in no-shows. Instead, the idea of collaboration and community, along with an employee-centric mentality, has taken over workplace design, and are reflected through a shift toward open offices, common spaces, and places to rest and rejuvenate.
Certainly, more and more people working from home, which translates into less space being used. According to data released by the U.S Census, about 5.2% of workers in the U.S. worked from home in 2017 — that's more than eight million people. Another recent study by IWG says that 70% of the global workforce works at home at least once a week. To retain employees and keep them happy, companies have moved toward allowing flex-schedules and remote working options. There are added benefits to this — working from home actually boosts productivity in many cases.
But with the tide turning away from traditional office use and toward fewer employees physically being present, what should you do with all the space?
Re-plan and Repurpose
In 2019, we predict people will try and fix their low utilization woes. One way they can accomplish this is by repurposing the spaces. By creating multipurpose areas or finding a new use for unused sections of the office, you can guarantee that the utilization of your workplace will jump up, giving you a bigger return on your commercial real estate investment.
Creating dynamic or flex space that can transform to meet the needs of the day would likely increase how often space is used. Agile work environments are the current trend and we don't expect that to go away anytime soon.
In fact, JLL reported that flex spaces increased by 29% in 2017. To create a flexible working space that can be easily rearranged, ditch the heavy desks, chairs and cubicle walls, and trade them in for lightweight, moveable furniture. By having easy-to-move furniture, your space can easily be transformed from being set up for an office-wide presentation to everyone being able to have a seat at a table for some nose-to-the-grindstone work.
Since offices and the hierarchy they represent are quickly becoming a thing of the past, the CEOs and VPs should move out to the common area with everyone else. Then, their office spaces too can be repurposed – perhaps to host smaller conferences that are happening more frequently among employees. A CBRE space utilization report found over 35% of meetings have only two participants. Furthermore, our own sensor data found that conference rooms hosting five to eight colleagues were utilized 21% of the time in 2018, while those hosting one to three people were utilized 78% of the time.
The VergeSense dashboard provides property managers and workplace tenants real-time utilization data to find better ways to allocate space and personnel within offices.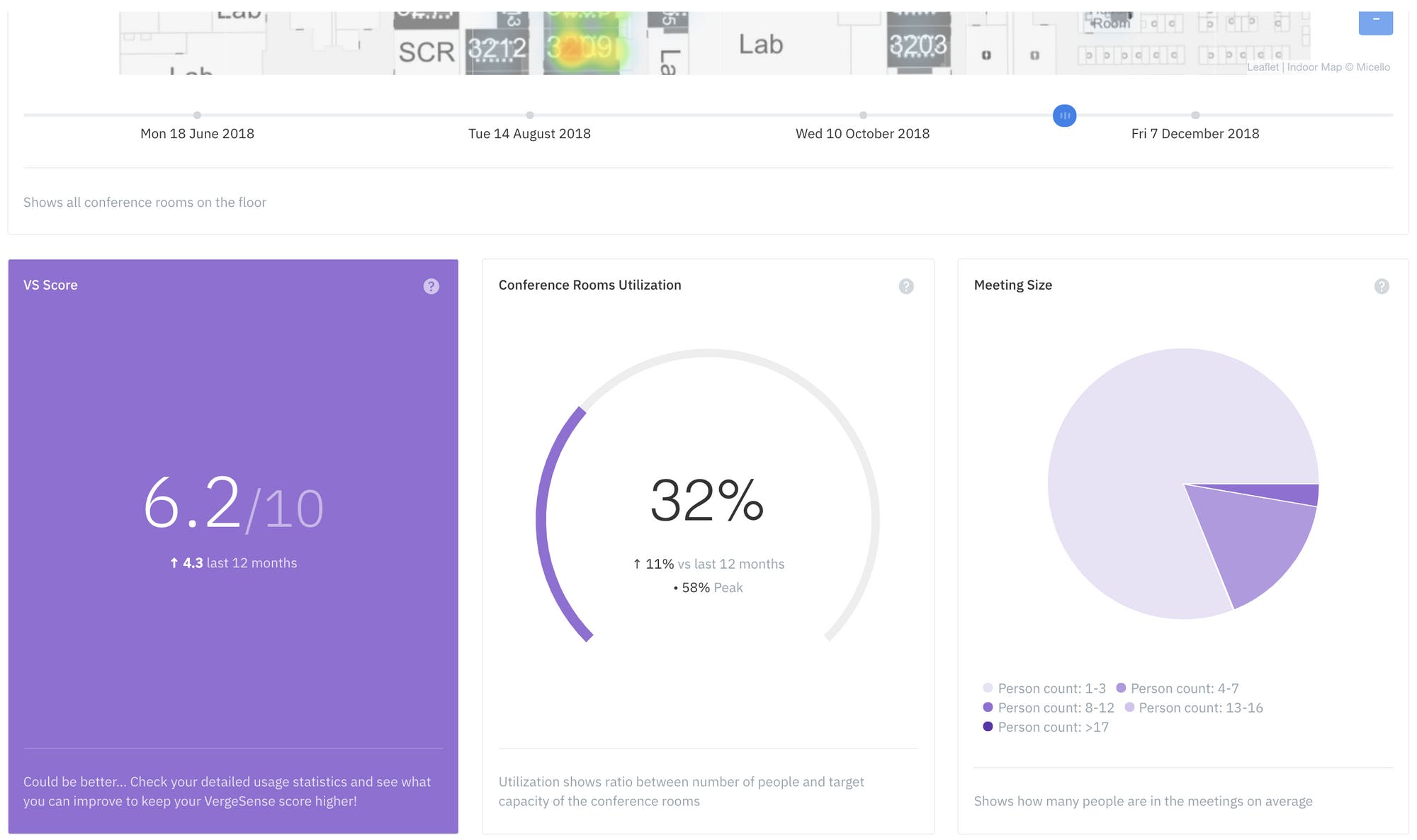 Is it time to downsize?
However, repurposing might be pointless if you don't have enough people in the space to begin with. Another way people might repurpose their space in 2019 is by downsizing.
With so many people working from home, chances are you just don't need the same amount of desk space or conference room size that you did a few years ago. Even if some employees work remotely at least a few days a week, an office can cut back on the number of desks that they have in the office. Changing the employee-to-desk ratio from 1-to-1 to 2- or 3-to-1 will have significant benefits on overall facility management costs, and will give you an idea of just how much you'll be able to cut back on size.
Major companies have already started the process of going through an office downsize. For example, American Express created their BlueWork program, which conducts a survey of their employees to determine which category they best fit into: Hub, Club, Roam, or Home. Those who fall into the 'hub' category work from the office, 'club' employees work from a mix of office and home, 'roam' workers spend most of their time on the road or at customer locations, and 'home' workers work remotely from home.
By conducting this survey and finding out who works best where, American Express not only increased productivity, but they saved $10 - $15 million in real estate costs over the past year. As time moves on, we're likely to see more companies follow their lead to best determine where employees should work based on their strengths.
Looking Ahead in 2019
The rise of co-working spaces like WeWork (or We The Company) provides alternatives for those not willing or not ready to have an office of their own. Geared especially toward smaller companies, the option to hot-desk, book conference rooms, and have all the comforts of home is appealing for many who do not require a lot of space. For companies potentially looking to downsize, co-working options give you a place to meet without all the costs associated with renting your own office.
As we dive into 2019, we should look for opportunities to make our buildings and companies more productive, useful, and beneficial to our employees. Those who can learn how to better use their space, or know when to downsize, can help you meet both employee and company needs.
Seeking alternatives to ensure that space both meets today's trends of collaboration and flexibility and gets the utilization needed to provide a return on investment is going to help your dollar go farther and your company retains employees.