The VergeSense Return to Work Framework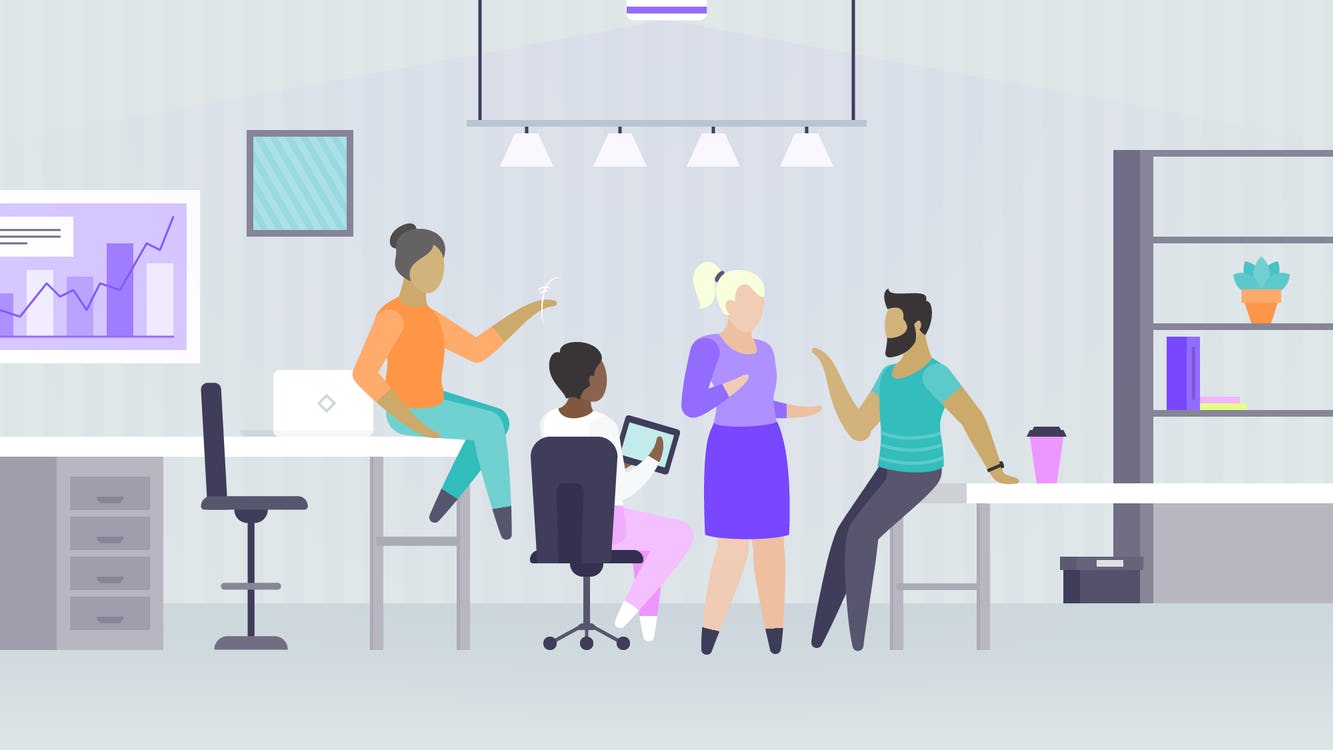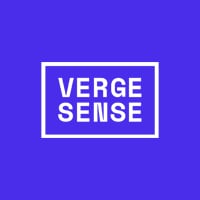 VergeSense is the industry leader in providing enterprises with a true understanding of their occupancy and how their offices are actually being used.
What will the new "work from anywhere" mentality look like in a post-pandemic world? How will you enable your workforce to truly flourish? With tens of thousands of your employees looking forward to returning to the office, the time is now to prepare with a new global workplace strategy.
Picture this – It's the first day back at the office. Employees are eager to reconvene with their peers and get a sense of community back into their workday. As employees enter the building, you welcome them by name in the lobby and confirm their attendance through the desk booking system.
Assigned desks are a thing of the past. Now, employees either file into a "neighborhood" aligned to their team or choose among a panel of choices — booths, nooks, conference rooms, or soft seating — that best meet their needs.
Even though vaccinations are on the rise, the pandemic has been a catalyst to increase hygiene standards indoors and employees will be more demanding about cleaning and air quality. As soon as an employee checks out from their space, cleaning crews are notified to sanitize before the next reservation arrives. In the lobby and across the building, plant walls bring in serenity while helping to circulate clean air within the space.
Sounds pretty awesome, right?
Keep in mind, the first day back in the office will define whether or not employees perceive it as a safe and productive space. To set your company up for long-term success, changes to the employee and office experience need to be made today.
In this article, we're outlining the 4 phases to create a dynamic workspace to ensure the safety of employees while encouraging collaboration and creativity.
Phase 1: Pre-Return
Transparency around the company's new systems and processes for creating a healthy, clean, and dynamic workplace is of utmost importance. If you don't instill confidence and trust amongst your employees, they won't want to return to the office.
Show empathy for your employees and let them know you relate to their hardships and experiences over the past year. Assure your employees that their health and wellness is a top priority of the company and neither will be compromised while in the workplace.
Keep the transparency throughout all office alterations by building awareness of the changes you've made and further explain the reasons for transitioning to a dynamic work environment. As you get feedback from employees, share your plans to react and continuously improve the workspace.
If you haven't started already, don't wait. Now is the moment to practice diligent change management and communication.
Phase 2: Exploratory Assess Your Employee Readiness
After almost a year of working from home, employees' outlooks have changed with evolving expectations of the workplace. Harvard Business Review states that the pandemic accelerated the evolution of the office from a productivity space to both a place of learning and an area to solve complex problems.
Ask yourself and your employees the following:
What are the benefits your employees gain from working in your office?
What types of collaborative experiences are employees expecting?
How can you ensure that employees feel safe and comfortable in the workplace?
Figure out what your employees desire from the workplace moving forward by conducting a survey. Determine how often and when employees would be willing to return to the office, along with their preferred location. This data will give you better insights into the leases you should pursue or terminate.
Once you understand where and how your employees want to work, map out your new office design by reevaluating your current sqft-to-employee ratio. Where will unassigned seating be most beneficial? Explore activity-based working layouts — silent zones, learning zones, and collaboration areas — to ensure that the space you have is utilized, valued, and effective in enabling a dynamic workplace.
Phase 3: Office Preparation Augment Your Physical Space with Real-Time Data
While the office is still empty, invest in a Workplace Analytics Platform to accompany your office space redesign. Once people are back, use the real-time data to make smart decisions based on the insights and analysis around occupancy trends and heat maps. How much space do you need based on current use and headcount projections? What spaces are most useful? Which should be transformed into a new resource for employees?
With a workplace analytics platform, you'll be able to:
Actively plan for gathering a rich dataset around how employees will use space including people counts and occupancy trends across your full floor plan
Power critical employee experience applications from the moment they return to garner trust, improve their workspaces, and make the office a destination of choice
Build credibility in your change management, as all modifications to the employee experience will be done prior to their return.
Create a Space that Builds Trust Through Wellness
Designing the office with employee wellness in mind and sufficient cleaning services in place will foster employee trust. So what systems should you plan for?
Monitor CO2 and indoor air quality and install systems to support it
Incorporate elements like green walls, temperature, and lighting systems
Prepare a smart cleaning system to clean desks as they free up
Guaranteeing the cleanliness of the workplace is imperative for employees to feel comfortable returning to the office and will promote transparency throughout the company.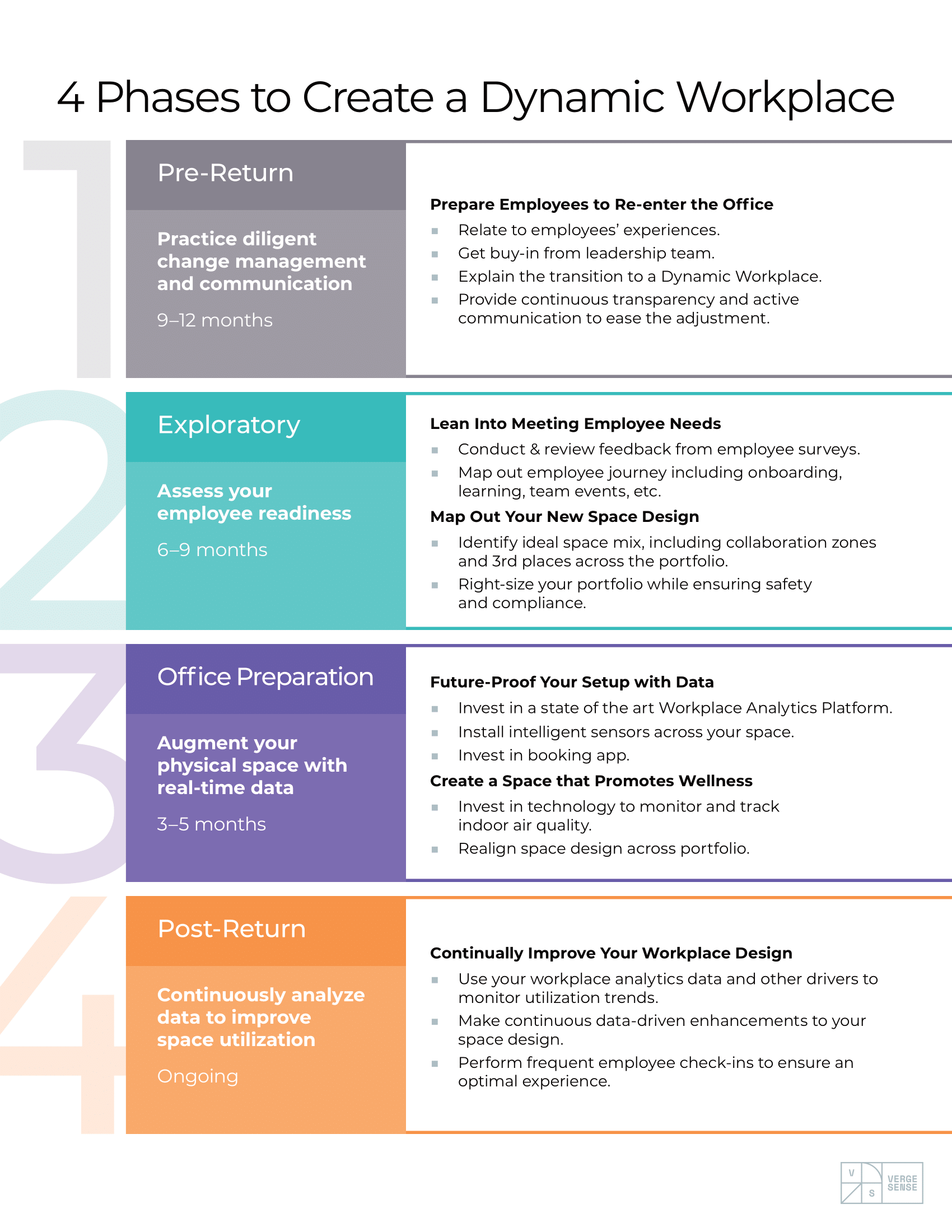 Phase 4: Post-Return
As your employees prepare for a return to the office, their needs within the workplace will continue to evolve — as will space utilization.
Be sure to continue to:
Monitor occupancy and utilization data on all locations
Evolve your workspace based on the data collected and changes due to COVID
A Workplace Analytics Platform is necessary to make data-driven decisions while your office evolves into a dynamic workplace. As employees' needs develop and change over time, your office's layout will need to be modified to ensure physical space is used effectively and drives consistent value.
Download our latest guide, How to Transform Your Office into a Dynamic Workplace complete with industry survey data, and in partnership with workplace experience thought leaders to begin mapping out your 8-12 month journey to a dynamic workplace.
Ready to make your 2021 workplace that much smarter? Request a consult to see the VergeSense Workplace Analytics Platform.